All authors are not naturally dynamic public speakers. Commonly, writers can be introverts. Many are not fond of public speaking. Because of this it can be visibly awkward or uncomfortable when they must do it to benefit their book. As an author, Mike Veeck comes across differently.
Mike Veeck Author and Public Speaker
Speeches and interviews with him are seemingly effortless, entertaining, and often unpredictable moments. The content of Mike Veeck books read and flow like the words of a storyteller. Therefore, they effectively deliver whether in writing or speaking engagements.
One equally important but often overlooked point. Not all speakers can write well. Nor do they even enjoy it. Often, they hire a ghost writer to do their books. And surely often you can tell (or at least suspect it).
Author Mike Veeck enjoys creative writing
With him, the process ranges from creatively writing books to radio and television commercials. There are also business proposals and various projects in between. And as a result, you might pick up on that love of writing fairly easily.
Now before we specifically get to covering the books authored by Mike Veeck, we'll quickly show some love for others. By this, we showcase other authors with whom Mike Veeck has collaborated.
Forewords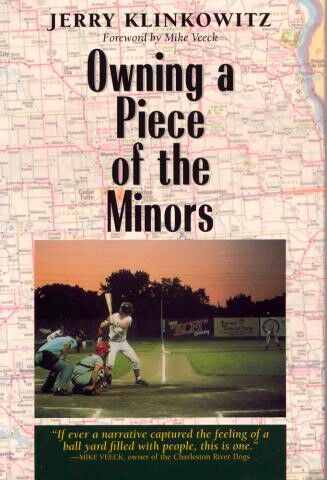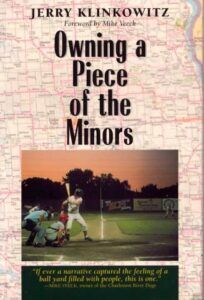 Owning a Piece of the Minors
He was asked to write the foreword for a book titled, "Owning a Piece of the Minors." It reveals the real-life story of author Jerry Klinkowitz. He is another person fortunately able to fulfill his lifelong dream of becoming the owner of a baseball team. With this intention, he proudly became part of a group which controlled the Waterloo Diamonds ballclub in Iowa for years.
Slouching Toward Fargo
Coincidentally that same year, another book hit the shelves. This one hit even closer to home for Mike Veeck. It was written by talented journalist and author, Neal Karlen. He's been a contributing writer for Newsweek, The New York Times and Rolling Stone. Not only did Neal rock Slouching Toward Fargo, he and Mike still are rocking a friendship.
Mike Veeck happily added the foreword for this timeless classic. The book takes you along for the Fun of Neal's epic exploring of the wacky world of the St. Paul Saints.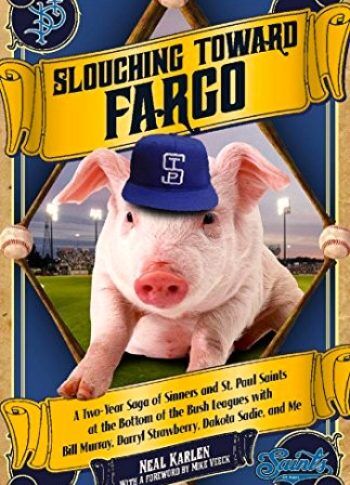 With this book in your hands, you will be sitting in the front row right next to Neal. This access is because he spent 2 years with the team enjoying a true insider's point of view. A follow up point on calling this a timeless classic. It is never too late to discover why Slouching Toward Fargo won a prestigious Casey Award as the "Best Baseball Book of the Year."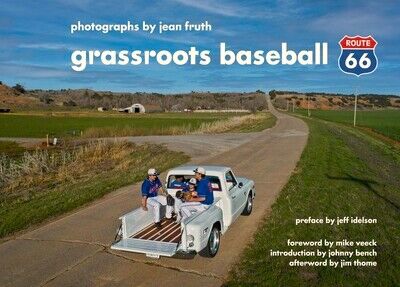 Grassroots Baseball: Route 66
In Spring of 2022, a book distributed by Simon & Schuster is showcasing the talent of photographer Jean Fruth in "Grassroots Baseball Route 66." Through her lens, you will enjoy seeing spots along Route 66 where baseball is played. As well as getting some great stories.
The foreword by Mike Veeck comes between an introduction by Hall of Famer, Johnny Bench, and an afterword by Hall of Famer, Jim Thome.
Books by Author Mike Veeck
Next things first. Mike is currently working at work as an author of a new version of a Fun Is Good book. It will be released in the near future. Be sure to become a subscriber to receive alerts and special offers on this book premiere.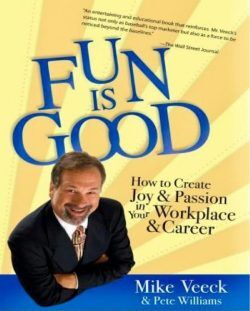 Fun Is Good
If this were the only book Mike Veeck wrote, it would leave any author feeling proud. Creating joy, passion, and Fun Is Good for business. Any business.
You can join other readers in receiving the many rewards of learning Mike's proven strategy of smiling your way to success. He shows how work and Fun can be one in the same.
It's a can't miss formula for the workplace, customer relationships, the bottom line, and life. The many real stories in the book will be inspiring and motivating.
Another Boring, Derivative, Piece of Crap Business Book: MakeThe First Basic Leap In Work in 100 Years, Laughing All The Way
Don't fall for the author's gag. Don't you dare judge this book by the title. At least not negatively. If you're taking it with a laugh, that's a good sign.
Longtime friends and Fun Is Good team members, Mike Veeck and Allen Fahden author this book. Their approach boldly blends comedy, creativity, and great business advice. It's a book you can hold in the palm of your hand. But it's also a book you will want to hold on to for reference. In addition, keep it near and dear to your heart, and your business or career, too.