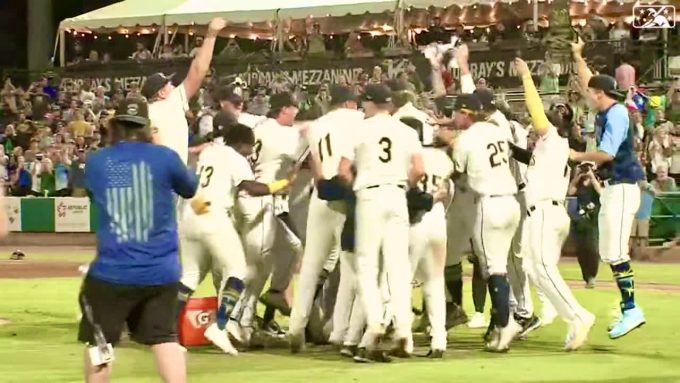 There is high praise all over South Carolina's Low Country today. And it is especially with baseball fans. Heartfelt congratulations are in order because of the Charleston RiverDogs Three-Peat. Last night, the RiverDogs defeated the Down East Wood Ducks 7-5 to win the Carolina League Championship. AGAIN. It is the first time in Carolina League history a team has won three consecutive championship titles.
"The Joe" really was rocking again last night. The only thing better than winning a championship is doing it in front of your home fans. And once again, the championship celebration was clinched at Joseph P. Riley, Jr. Park in Charleston, SC with over 5-thousand fans in attendance.
The Charleston RiverDogs Three-Peat happened because the team scored all 7 of their runs in the bottom of the first inning.  The Single-A affiliate of the Tampa Bay Rays was then forced to hang on the rest of the way. RiverDogs pitcher Cade Halemanu worked the 8th and 9th innings. As you saw, he struck out JoJo Blackmon for the final out. It gave the team and the crowd not only great joy, but a sense of relief.
RiverDogs President Dave Echols proves "Nice Guys Can Finish First."
He also proves patience and hard work pay off, too. Dave Echols does a great job as Club President and can take great pride in the Charleston RiverDogs Three-Peat Carolina League Championship run. He has also shown great patience.
Every championship win has been a special gift in its own right. And in the case of the RiverDogs, they had to wait a lifetime to win their first title. After that, Dave Echols excitedly started barking about the quest for back-to-back titles. They achieved that.   But this year, may have required the most patience and effort of them all.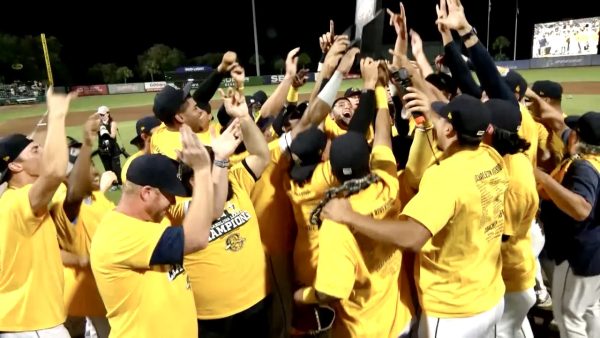 Maybe there was a hangover or some complacency. Or perhaps it was just some bad breaks. Regardless, the 2023 season quickly got off to a slow start for the RiverDogs. For a stretch, the talented ballclub was in double digit games below the .500 mark.
Climbing to an even won-loss record was quite an accomplishment. However, the Charleston RiverDogs Three-Peat was nothing shy of extraordinary. They became the first team in minor league baseball (MiLB) since 2008 to finish the first half of a season in last place and go on to win their league title.
Fun is Good But Titles are, too.
Speaking of titles, Mike Veeck carries the lofty one as President Emeritus with the ballclub that led him and the Veeck family to fall in love with the Charleston area. He also remains a minority owner of the team. But make no mistake about this Charleston RiverDogs Three-Peat, Mike is very proud they hired Dave Echols long ago and is even more happy for him. Dave has truly been a loyal big dog and watchdog for the team's Fun is Good approach at the ballpark.