Bill Veeck
If there was a Hall of Fame for living fully, baseball legend Bill Veeck would probably be in that one, too.
Liking or disliking him and his antics is irrelevant here. Our point is, you would be the first person past or present to call him dull or boring.
"I was in the game for love. After all, where else can an old-timer with one leg, who can't hear or see, live like a king while doing the only thing I wanted to do?"— Bill Veeck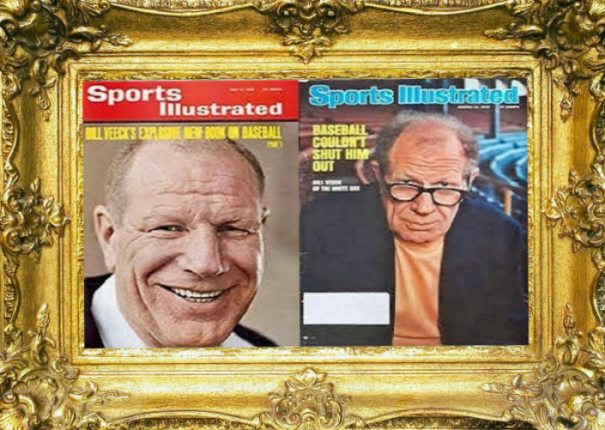 Baseball was truly "America's Pastime" during its 20th Century glory days. Even then, games consisted of playing 9 innings.
Intermittently during the 1940's to 1970's, one man who was a fireball of Fun and energy changed baseball. In doing this, it was like Bill Veeck had 9 lives. No doubt he hustled them cutting a deal with a cat.
Bill acquired professional baseball teams using mostly other people's money. Therefore, to be competitive, he was forced into being creative against the much wealthier owners. But instead, they wanted the times and tradition to stay put.
He could be like a day trader with player contracts. Contrastingly, at night Bill and his wife Mary Frances, were the consummate hosts of parties welcoming tens of thousands of guests to the ballpark.
Veeck introduced fireworks to baseball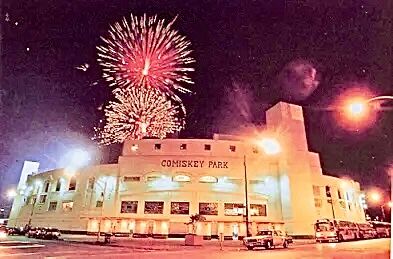 And Bill's fireworks were not just in the sky. He lit up baseball regularly with "no- limits" promotional stunts. His creativity created fireworks in the media as well as in the stands. Yes, Bill was even daring enough to do it on the baseball field itself.
In typically Veeck style, even after his 9th of lives, his top career highlight happened. The ultimate outsider wound up in the ultimate insider's club.
Bill Veeck got into the National Baseball Hall of Fame where his legacy is preserved forever. The show must go on, right?
Unbelievable? Yes. But true.
The man was a lot of things. Loyal and dedicated husband. Larger than life father. Enlisted World War II Veteran. World Series winning baseball team owner.
A disabled guy who did his own stunts (promotional that is). Author. TV/Radio host. Tireless public speaker. Seriously deprived sleeper. Nowhere within miles of the box thinker.
Some called him, "Sport Shirt Bill." Others undressed him saying a whole lot worse. But no one, friend or foe argues he was a regular guy laughing, smoking, drinking, and hustling his way through life and baseball in the most irregular ways.
Remembering this is important because we have a stunt for you. It is following his journey and trying to imagine walking in Bill Veeck's shoes. A Fun way of appreciating the unique footprints he left.
How Did Bill Veeck Lose His Leg?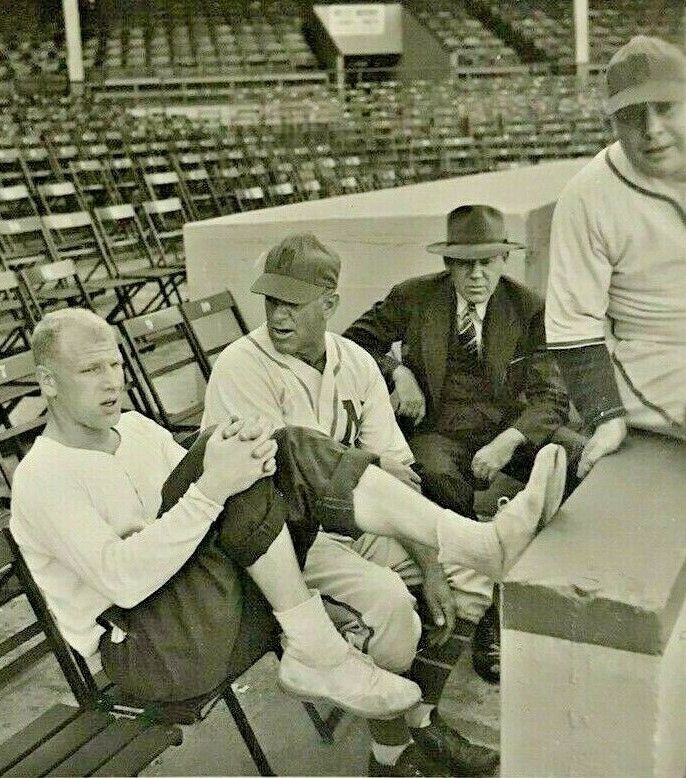 The young go-getter had just begun fulfilling his dream as a team owner. It was the minor league, Milwaukee Brewers. So what? He was also passionate about serving his country during World War II.
Therefore, on two healthy legs Bill enlisted in the United States Marine Corps. He lost his right leg while serving 3 years in an artillery unit in the South Pacific.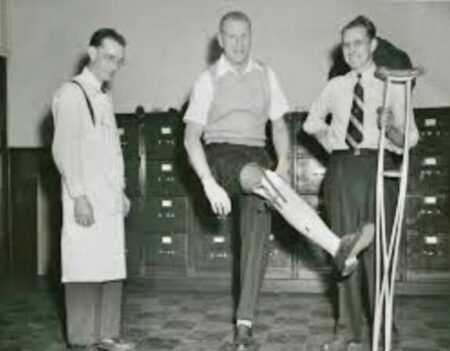 Next, imagine enduring 36 surgeries during World War II. It didn't stop him. Left standing on a right leg with only a stump below the knee? Indeed. Relying on crutches, he still marched back into baseball and to his own beat.
Home soaking that painful stump became his early morning multi-tasking routine. Along with it came reading, smoking Salem Longs, and family time (including the kids sometimes hiding his prosthetic).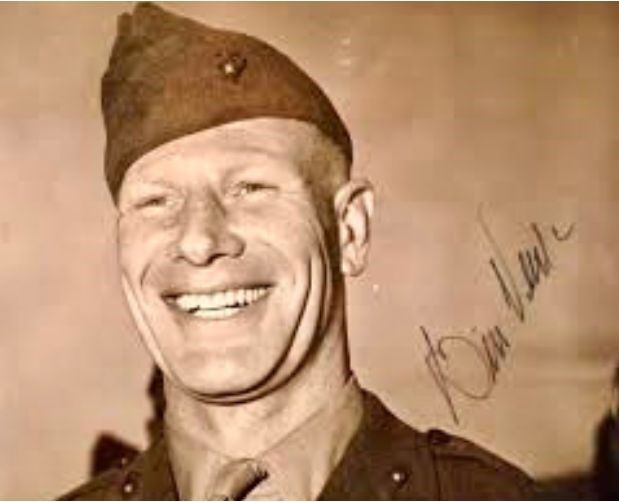 Oh, what Fun was his zest for life. As Mike Veeck likes to say, "You just don't find anyone telling sad stories about my Dad."
Their Dad having a wooden leg didn't matter to Mike and his siblings. It was simply their way of life. Try kicking around these rare gems:
Have you ever heard of anyone else carving holes in his trusty wooden prosthetics because it gave him a handy ashtray?
Try naming one other Dad known for hammering a nail into his wooden leg in front of his kids' friends. Then issuing his onlookers a challenge. "Go home and see if YOUR Dad can do that!"
The Major League Baseball owner called "Maverick" more than Tom Cruise in Top Gun.
This was nothing like a hero pilot's nickname. Instead, it was a term for shooting down a guy who didn't do things the way everyone else did in baseball.
Veeck did it his way because he enjoyed it. In addition, he felt more or less forced into his promotional stunts to help the business financially.
Due to limited funding, he would never be running the New York Yankees. He was always looking for a deal on a "fixer upper." This meant acquiring baseball teams struggling in one or more ways.
Selling winning wasn't often an option. Neither was paying the big star players. So, he used the unusual in attracting paying fans to his team's games.
The P.T. Barnum of Baseball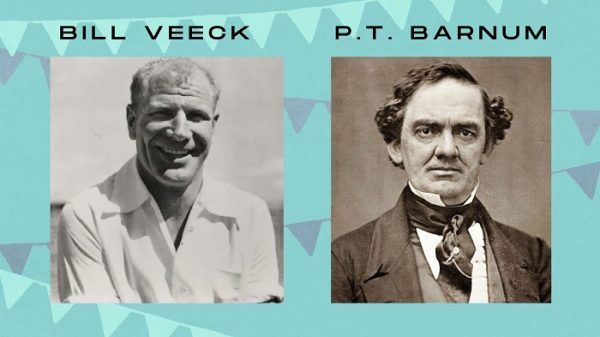 Bill Veeck never embraced being called, "The P.T. Barnum of Baseball." Besides, circus acts like the bearded lady and the sword swallower were "his people." He was just a little guy in a big sport looking out for other little little guys.
Yes, Bill would pick up his office phone if you called. Really. Even better, it was known around town his home number was listed in the phone book. Ask Mike and the rest of the family. Fans might call the house any hour of the day or night suggesting trades, a better batting order, or to call Bill a bum for losing that day's game.
Making the Fun story even funnier is Bill Veeck might not have been home for those calls. He might have been doing speaking engagements, working the bars until closing time. Doing anything and everything it took to put a winning team on the field. A team which was also scoring at the ticket office.
Wealthy team owners and baseball purists were the establishment and his rivals. They were eager for taking a bat to Veeck's wacky promotional stunts, seeing him as beneath "their game."
Bill Veeck's Famous Stunts
Even with today's new pitch clock, it would take extra innings to list all Bill Veeck's promotional stunts. Therefore, here are a few of his "doozies."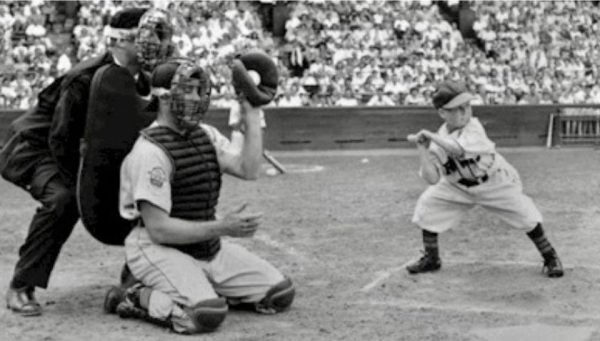 – Eddie Gaedel.
Bill orchestrated a detailed secret signing with a unique player contract in 1951. Eddie Gaedel was a 3'7 man who today would be called a "little person." The deal was for one historic at-bat leading off a Major League Baseball game for Veeck's St. Louis Browns. Wearing a jersey with 1/8 on the back, Eddie Gaedel walked on 4 pitches.
It went down just as discussed in Bill Veeck's threats to him. After Eddie's walk, he went triumphantly galloping off to first base and more importantly into immortality.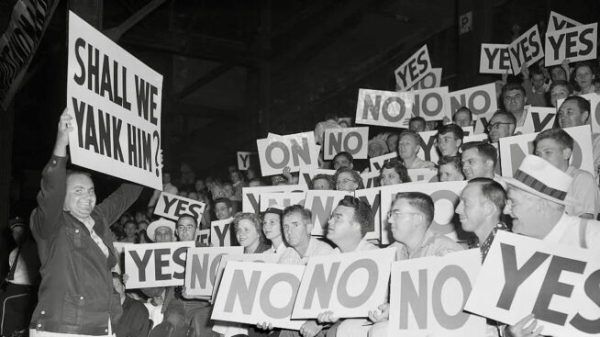 – Grandstand Manager's Night.
That same 1951 season had a night with dictating fans holding up signs. They were voting on what game decisions the manager should make. Such as, bunt, steal, or make a pitching change.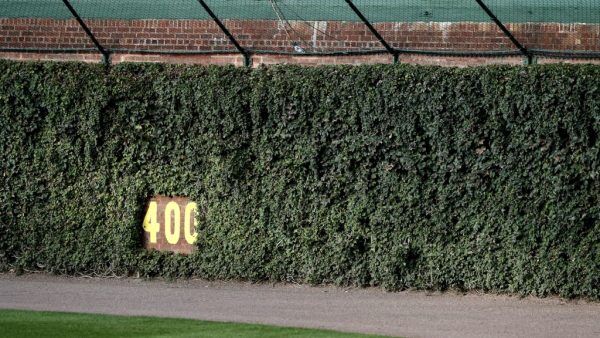 – Wrigley Field Ivy.
In 1937, Bill put his green thumb into action, sprucing up the outfield walls of the Chicago Cubs' Wrigley Field. For a while, the iconic ivy idea had been growing on Cubs' owner Mr. Wrigley, Veeck and others. Bill led a crew in getting it done overnight in a pinch.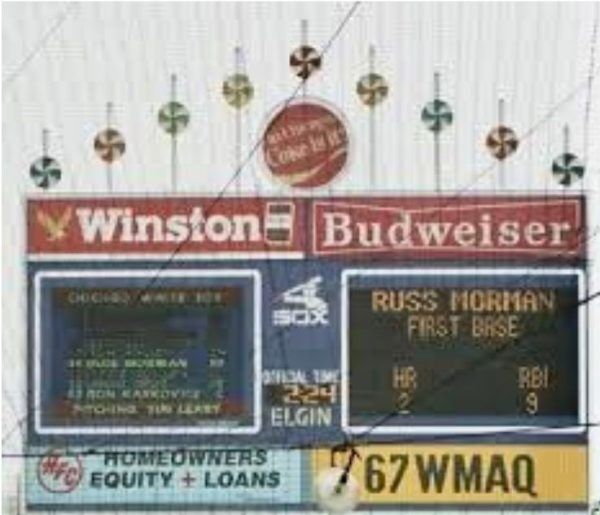 In the 1970's, there had never been anything like it. This was much to the delight of Chicago White Sox fans, and much to the chagrin of opposing teams. Every time the home team hit a home run, the scoreboard would explode with fireworks.
There was also the sound of music, a cavalry charge, jet bombers, trains screeching, and even a woman screaming, "Fireman, save my child!"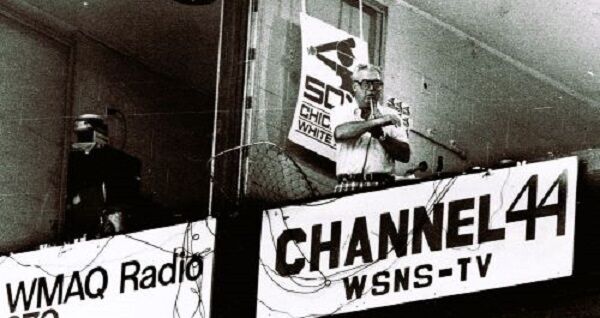 – Harry Caray Singing Take Me Out to the Ballgame.
In 1976, Bill resorted to strong arming legendary announcer Harry Caray into starting his ear hurting tradition. Harry leading the crowd in singing "Take Me Out to the Ballgame" during the 7th-inning stretch may live on forever.
– Lucky Chair Prizes.
Any fan could be in the hot seat for receiving hilarious prizes. One night, Bill Veeck was putting $1,000 silver dollars into a block of ice. Another night was awarding 36 live lobsters, or 1,000 cans of beer. The payoffs were both short and long term. Immediately, everyone in the stadium was howling watching the person trying to leave with their prize. But over time, the big payoff was practically every person at those games sharing the story with friends, family, neighbors, and co-workers.
– Free Days.
He would offer free days at the ballpark for everyday folks like him with jobs having to deal with the public. One day, attending the game might be free for taxi drivers. Another day for bartenders. (Most of whom he knew on a first name basis). There was even a free game promotion for anyone named Smith.
With many of Bill Veeck's stunts, he was basically turning thousands of people into human bullhorns happily doing his word-of-mouth marketing.
What Teams Did Bill Veeck Own?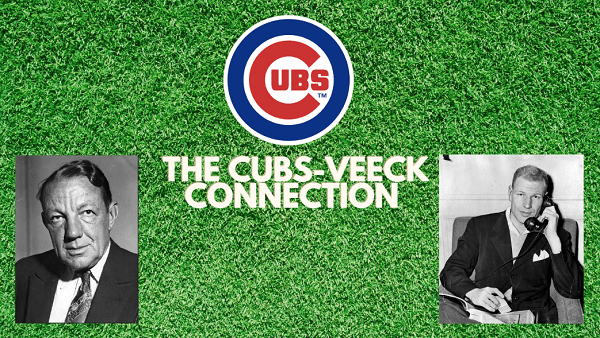 Let's begin here by clarifying the Veeck history with the Chicago Cubs. The Veecks never owned the team.
Bill Veeck worked for the Cubs as a teenager. William Veeck, Sr. was the man Bill Veeck called "Daddy" his entire life. William(Father of Bill Veeck) is generally overlooked for having an important career in his own right. He was the sportswriter whose "Baseball IQ," led him to becoming President of the Chicago Cubs during the Great Depression.
Whereas following his Daddy's death, young Bill rose to treasurer of the Cubs. But being on the move, he left the Cubbies in 1940 due to hustling his first group ownership. He was only 27-years old.
Milwaukee Brewers. This was a Double-A ballclub, the highest level of minor league baseball at the time. Arriving in "Cream City" with $11 dollars, Bill got busy creating a buzz. It wasn't just with beer either.
He was giving away live animals, having weddings at home plate, a fan favorite swayback horse, and more. He also honored World War II plant workers on the graveyard shift by playing some morning games served with breakfast.
During the 5 years owned by the Veeck-led syndicate, the Milwaukee Brewers won 3 pennants.
Cleveland Indians. Bill's debut as a Major League Baseball Owner was a tale of swinging for the fences. In 1946, he bought the team. In 1947, he broke the American League color barrier by signing fellow World War II Veteran, Larry Doby, a star with the Newark Eagles of the Negro Leagues. The next year? Bill's most magical season.
Bill Veeck's Cleveland Indians won the 1948 World Series.
Surprisingly, the following season, Bill soon went from being the Toast of the Town to burnt toast. The 1949 team missed the playoffs. Making matters much worse, he held a ceremony burying the 1948 World Series flag in center field. The event backfired badly, burying Bill's popularity instead. He felt forced to sell the ballclub and did so quickly.
St. Louis Browns. Bill Veeck was back by the middle of the 1951 season. This mission was trying to keep alive the struggling St. Louis Browns. The team stunk but his stunts and marketing efforts were working. By 1952, the team's attendance doubled. But here is an idea what a tough spot it was. Bill's big boost in attendance was merely an upgrade from dreadful to dismal.
The ultimate reason for the St. Louis Brown's demise was not his fault. Blame or credit goes to August Anheuser Busch, Jr. heir to the Anheuser-Busch brewery and fortune. Gussie saved the crosstown St. Louis Cardinals ballclub from leaving town. Unable to compete financially, Bill tried leaving town. But he was left crying in his beer after his plans for moving the team to Baltimore were blocked by the Major League Baseball Commissioner and owners. They called "checkmate" for the maverick and won.
Bill Veeck owned the Chicago White Sox Twice
Both times were whirlwind adventures in the Windy City. The first time in 1959 was perhaps Bill's biggest hustle. It was no easy task wrestling control while an ownership battle was raging inside the Chicago White Sox. However, his group acquired a majority stake from Dorothy Comiskey Rigney. She was the granddaughter of Charles Comiskey, who founded the franchise.
Veeck's first go-round highlights were creating his infamous exploding scoreboard and guiding the "Go Go Sox." His exciting White Sox squad won the team's first American League pennant and trip to the World Series since the Black Sox Scandal in 1919.
This abrupt ending was due to Bill's doctors running him out of baseball. He was suffering from exhaustion, smoking related coughing bouts so bad they would literally knock him out, and more.
Because of those dire health warnings, Bill Veeck sold the Chicago White Sox in 1961. For his next death-defying stunt, he would try resting. Being a stay-at-home Dad and gardening was healing. But soon he was into things such as writing, media work, and running Suffolk Downs horse racing track.
Saving the Chicago White Sox from Moving to Seattle
Who doesn't like a good comeback story? In 1975, Bill Veeck bought back the Chisox from one of his former partners thereby saving Chicago's South Siders from losing their baseball team to Seattle.
Unfortunately, this time, Bill's group was even more cash-strapped than his past dealings. He began this term by telling White Sox general manager, Roland Hemond, "We don't have any money. But, we'll think of something."
The two future Hall of Famers did just that. Brilliantly, it was a "Rent a Player" strategy. The idea was their only way of acquiring good players they could afford. Because the players were on the last year on their expiring contract, having a great season for the Sox was a win for all. For the players it would mean getting paid big bucks as a free agent the next season with a power club.
Speaking of power, Veeck and Hemond built a winning team with the popular power-hitting lineup called, "The South Side Hit Men." This earned Bill the prestigious, "Sporting News Executive of the Year Award" in 1977.
Roland Hemond perfectly summed up Bill's 2nd act with the White Sox. He said, "I tell people I worked for Bill Veeck 5 years, but it was really 10 because I never slept."
Declining health and being unable to compete in high-priced free agency became too much. In 1981, Bill Veeck sold the Chicago White Sox to Jerry Reinsdorf and Eddie Einhorn. But on his way out of baseball, the establishment stuck it to him one last time. His first choice was selling the club to San Francisco 49ers owner, Eddie DeBartolo. That deal also got blocked.
Bill Veeck Induction into National Baseball Hall of Fame.
Sadly, he never saw the honor because it came in 1991. It was 10 years after Bill's last season as an owner. More importantly, it was 5+ years after his passing away on the second day of 1986.
Bill Veeck was 71 years old when he died. But basing it on Roland Hemond's math would mean he was living fully for 142 years. Now that sounds about right.