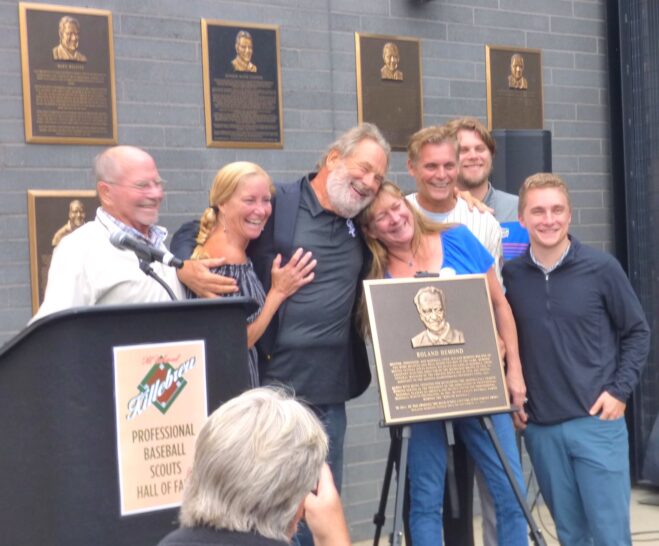 Mike Veeck knows this upgrade was a necessity. Even if it meant he had to stand there holding it, Mike wanted a Roland Hemond plaque at CHS Field. After all, it isn't every day someone has a highly successful 70-year career in minor league and major league baseball.
Roland Hemond's resume and list of accomplishments are long, very long. As a result, in 2011 the National Baseball Hall of Fame Board of Directors named him the 2nd winner of the Buck O'Neil Lifetime Achievement Award after only Buck himself.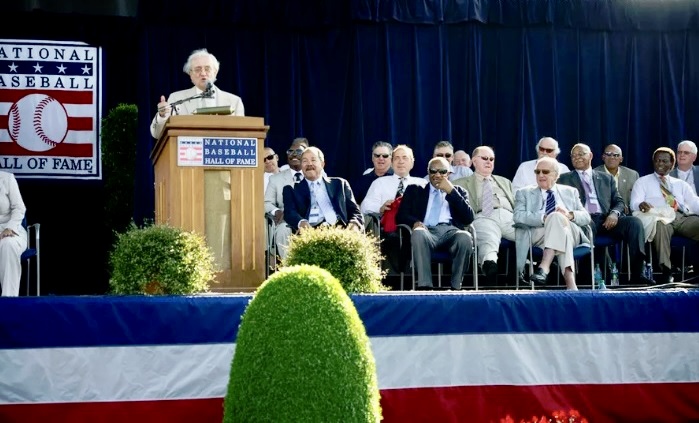 Was Roland Hemond Scouting?
First and foremost, yes and always. He was scouting. The Roland Hemond plaque represents the importance of it. Often overlooked is the fact it requires tremendous talent to become a great talent evaluator in baseball. Roland had it, which means he also had great scouts. But look at this:
Won the Major League Baseball Executive of the Year Award 3 times.
Drafted the legendary Hank Aaron for the Milwaukee Braves.
Gave Tony LaRussa his first big league manager job with the Chicago White Sox.
Phillies President of Baseball Operations, Dave Dombrowski, and Derrick Hall, President and CEO of the Arizona Diamondbacks are two of his hires.
Developed the Arizona Fall League and the Professional Baseball Scouts Foundation.
Played a key role in building expansion clubs with the Los Angeles Angels and Arizona Diamondbacks.
It was great having the Hemond family at the ballpark for celebrating the Roland Hemond plaque. Less than nine months ago, Roland Hemond made his final transaction, passing away at 92. It was a life well lived.
Reaching that age in itself was quite an accomplishment considering his 12 years as general manager of the Chicago White Sox, the first 5 spent with fellow Hall of Famer Bill Veeck. Oh, did they ever show what creativity and hard work can do against all odds, especially financially. Much like his boss, Roland too was a "Champion of the Little Guy."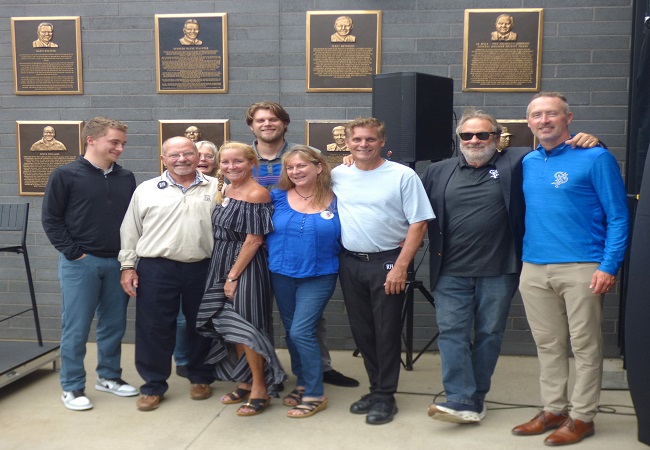 Derrick Hall summed it up well saying, "No one has had more influence on the game of baseball than Roland Hemond. He's touched almost everyone's life." 
And rightfully, the Roland Hemond plaque at CHS Field keeps that alive.
Suggested Articles
2022 Cleveland Guardians – A Great New Start  
2022 St. Paul Saints Season Recap
Home Run Catching Dog Steals Show