The term "dog catcher" has a whole new meaning today. This is because a home run catching dog has nothing to do with dogs straying. Yet it has everything to do with game playing. Baseball and "Fun is Good" that is.
A home run dog stealing the show was just thinking it was another game of "fetch." 
For the scoop, we go to Camelback Ranch in Glendale, Arizona. It is the spring training home of the Kansas City Royals. This afternoon, a pre-season exhibition game against the visiting Los Angeles Dodgers in Cactus League play. 
The Major League Baseball season officially begins with opening day on Thursday. So, these final spring training outings are far from life or death. They are exhibitions more than serious competition. Roster spots are primarily determined by now. The only two real goals are players getting into better shape and more importantly, not getting injured.  
There is usually very little real news at this stage. You could call it the "Dog days of spring." Something of a pause before starting the games which count. Check that.  
There was news and it became a viral story involving…"paws." The paws of a home run catching dog.
Michael Busch is a second baseman at the top of the Los Angeles Dodgers farm system. Think 7th inning of a meaningless game. Losing by a score of 5-2, the left-handed hitter smacked that solo home run to left center field. It cut the lead to 5 to 3. Why was the crowd going wild?   
Busch unleashing his power was what it was. But it was clearly overshadowed. Undoubtedly, the highlight of this home run was the hustler quickly springing into action in the stands.
The chase for the spring training game ball. 
It was won all right…by a dog. 
That's right. A dog. Luckily, the home run catching dog didn't have to battle a bunch of other dogs. Surprisingly, there were no humans in the spontaneous race for the trophy. What clearly happened was the catch joyously celebrated by the mainly Dodger fans in the vicinity.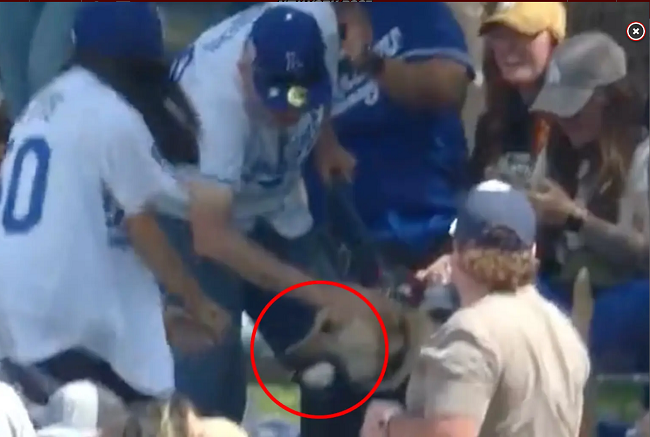 Meanwhile, connecting the fella holding up the ball didn't require a whole lot of detective work on our part. The home run catching dog voluntarily brought the ball to him. Plus, he can seen wearing a Dodgers jersey with the "number" K-9 on it. 
No word yet if Michael Busch was asked to sign his home run ball. He would have surely needed to write over slobber. It might also have gotten him into another game of fetch. 
If this sounds Fun to you, be sure to check out attending our "Dogs Days" we have with the St. Paul Saints and Charleston RiverDogs.
Suggested Articles
Nantucket Film Festival 2023 Award Winner