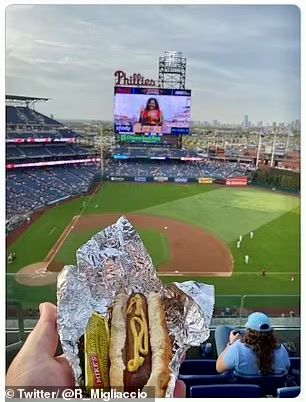 What a bunch of weenies. The world getting more ammunition it certainly didn't need. Check. Wastefully firing ballpark franks they should have been eating. Check. And so it goes with the big Phillies Hot Dog Fight last night.
It came during the first of three "Dollar Dog Night" promotions on the Philadelphia Phillies 2023 home schedule. By and large you can consider $1 hot dogs a good idea. It got fans into Citizen's Bank Park on a Tuesday night in April. A sellout crowd of 43,444 for a game against the visiting Florida Marlins is proof.
What a score for Hatfield Meats sponsoring the event. However, officially naming it, "Hatfield Phillies Franks Dollar Dog Night," was basically a call to arms for some McCoys.
How the 1$ Hot dog fight at phillies Began?
The injury-plagued Phils were losing to the Marlins. After reaching the World Series last year, this was their 8th loss in 12 games. No Fun in Philly. But Phillies' President and General Manager, Dave Dombrowski, is longtime friends with Mike Veeck. So, we're of course rooting for them.
Section 112 is on the field level beyond first base. There, an impromptu hot dog eating contest was more exciting than the game. Fans were hungry for something to cheer about. They find it in a 13-year-old kid putting on a show downing dollar dogs.
By reaching double figures, he had the full attention and support of the crowd around him. People were shouting encouragement, "Eat another one! Eat another one!" Next, words turned into action. Generously, $1 sacrificial hot dogs are tossed TO the kid.
Eyewitness Robert Kristovich was there in Section 112 with his sons.  He describes what happened once security got involved. "A guard came over and started yelling, and then it just went nuts," he said. Think of it like blowing a dog whistle for flying franks.
You know someone had to yell…"Food Fight!"
Now, hot dogs get hurled AT the people in that spot. And naturally, a good hot dog fight among Phillies fans spread to other sections.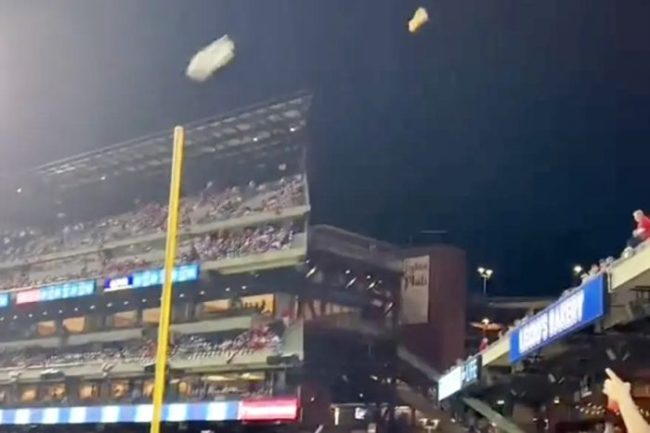 Some Philly soft pretzels got in on the fray. Yet perhaps in knowing the need for washing down hot dogs, things got worse. Flying water bottles joined with flying frankfurters. 
You Gotta Love Fans in the City of Brotherly Love 
We go back to Mr. Kristovich to explain. "So, the water bottles started coming down from the upper deck. I was there with my boys," he said. "And we got out."
The final act of throwing. A call to the bullpen for reinforcements. Participating fans were thrown out of the ballpark right and left by Philadelphia police and stadium security officers.
Being "The City of Brotherly Love," it is important to note a couple of key points:
Reports say the Phillies sold over 58,000 hot dogs.

None of the projectiles reached the field of play.

No angry food fight was directed at Santa Claus. (Only because he wasn't at the game).

The Fightin Phils schedule features 2 more "Dollar Dog Nights" coming soon on April 25 and May 9.
Phillies Dollar Hot Dog Fight Video 2023
Suggested Articles
Charleston RiverDogs Champagne Showers Night
Bill Veeck's Exploding Scoreboard
Patrick Reusse Rounds The Bases with Veeck