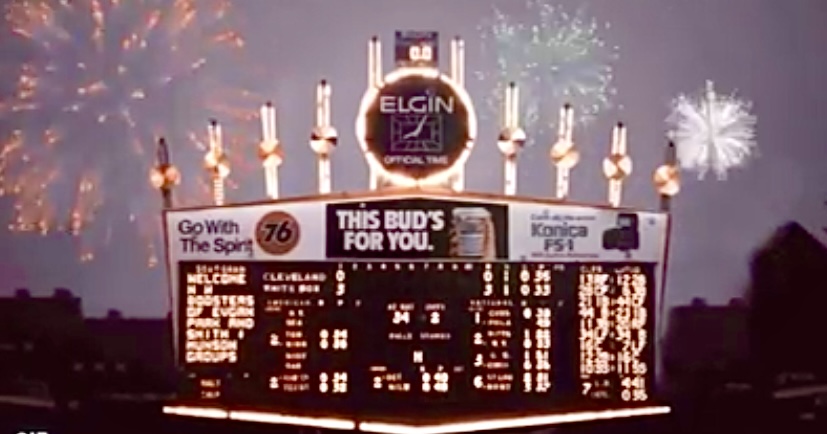 More people were afraid of seeing his ugly, war-torn right leg. Meanwhile, Bill Veeck's exploding scoreboard was the "Frankenstein's Monster" of his own making. Yet, Chicago White Sox fans loved it and thought it was fun. Contrarily, opposing teams playing in Comiskey Park hated it and found it annoying. Whereas few found it scary.
Ever the visionary and entertainer, Veeck's creative idea brought the scoreboard to life. Before it was the place at his team's baseball games where numbers were shown. Afterward, the scoreboard became a big part of his shows for the fans. A second stage if you will. Nonetheless, being high tech in its time, it was second to none.
Conversely, you don't need to be a senior citizen or history major to know the impact of this. You can thank or simply credit Bill Veeck's vision for the experience you have today. Attending baseball games, all sporting events, and even concerts, wouldn't be the same without him. Calling it game changing is shortchanging the truth.
Bill Veeck's exploding scoreboard was life changing. Today's scoreboards are alive and well because of it.
Surprisingly, he didn't dream it up from watching a science-fiction movie. Instead, Bill was inspired by a scene in the James Cagney movie, "The Time of Your Life."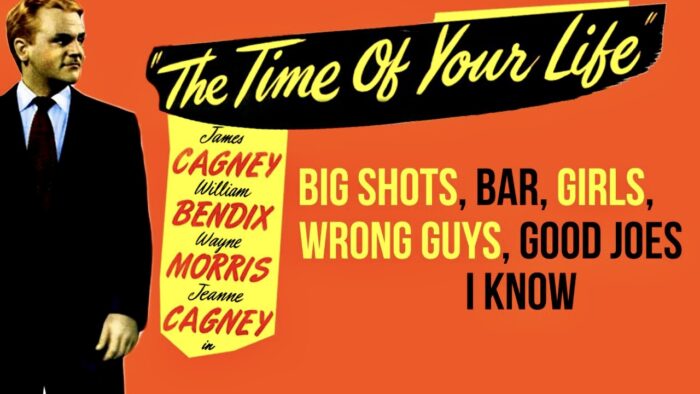 Of course, the 1948 film's title alone was demanding of Veeck's attention. Unquestionably, he lived by having the time of his life.
Revolving around a place called, "Nick's Pacific Street Saloon," had to be irresistible to the guy who in real-life was every bartender's best friend.
Near the end of the film, Cagney's pinball playing character hits a jackpot. A big one. Bill vividly remembered it being one of the darndest explosions of sounds and lights he'd ever known.
However, that was…until his own efforts. He kept thinking he'd love having something like that pinball scene for White Sox games at Comiskey Park.
At this point, sci-fi might began creeping into Chicago's South Side. That's because Bill was passionately scheming "Frankenstein's Monster." Pulling it all together with him was his fireworks guru, Auturo "Tony" Toscanini. And oh my, did they ever get the job done.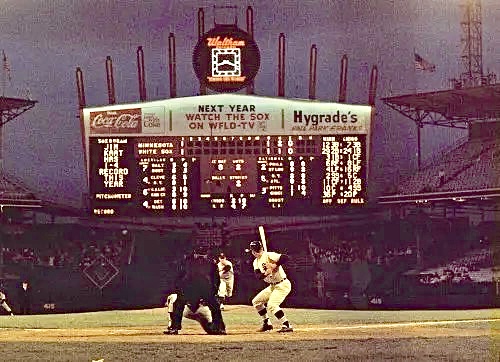 Bill Veeck's exploding scoreboard was 130-foot-wide. Even bigger was the cost. A whopping $300,000 in 1960.
In those days, you would need a big bang for that many bucks. Plus, every explosion meant spending more money. So what? It was still paying dividends through laughter and attendance.
Naturally, Bill's "Chip off the Ol' Block" was standing at the front of the line in both recognizing and valuing The Monster's beauty.
"Of all the unusual things my father did in baseball, my favorite, hands down, was the exploding scoreboard."
– Mike Veeck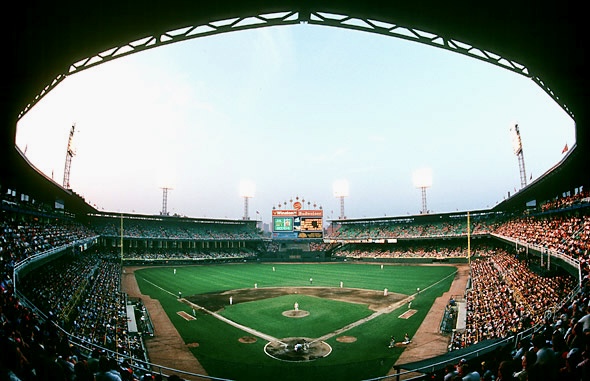 Debuting on May 1, 1960 in centerfield of Comiskey Park. 29,586 fans could proudly say they were there. The Monster would be coming to life with the hitting of every Chicago White Sox home run.
Being caring hosts, the home team didn't keep their guests waiting long that day. Mercifully, the christening came in the first inning. Al Smith smacked a two-run homer off Jim Bunning of the Detroit Tigers. A special and beautiful relationship with a scoreboard was born.
South Siders simply couldn't get enough of the Fun and excitement it brought to the ballpark. For years, they were eating it up faster than Chicago-Style deep dish pizza.
They had what other teams and fan bases didn't, sharing deeply in Bill's pride and pleasure. And when the copying commenced by other teams and stadiums, White Sox fans could always boast of having the original.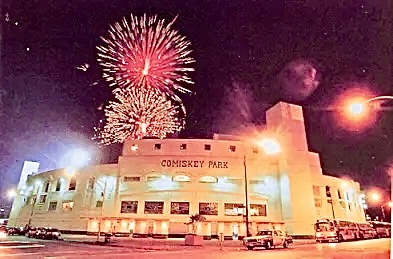 What did Bill's Veeck's exploding scoreboard do?
YES. Exactly. Yes, it did that.
Bombs
Cavalry charge
Choruses singing "Hallelujah"
Fireworks
Galloping horses
Jet bombers
Locomotives crashing
Machine gun wire
Mortars on top
Multi-color pinwheels
Never flipping the same way twice
Rockets
Roman candles
Sirens
"Soxogram" message board
Speaker system louder than O'Hare International Airport
Strobe lights
Subway screechings
The Lone Ranger theme music
Thunderclaps
A woman screaming, "Fireman, save my child!"
And more, much more…
Polarizing Quotes and Reactions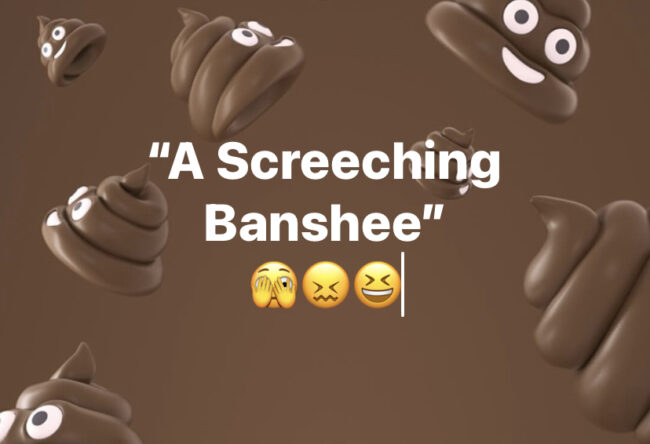 Baseball historian and Chicago Tribune columnist Jerome Holtzman generally understood Bill Veeck. Hence, he accurately described the scoreboard as "a screeching banshee." Many other folks were led into thinking Ol' Will as he called himself, had lost his mind (again).
– All Star Jimmy Piersall was seen heaving a baseball at the scoreboard. He was probably thinking, "If only I had a grenade."
– A funny showing of disdain was arranged by Hall of Famer, Casey Stengel and his New York Yankees. After the great Mickey Mantle hit a home run with no scoreboard salute, Yankees players could be seen waving sparklers like little kids. Now, that must have been Fun.
– Jimmy Dykes, had been the winningest manager in White Sox history. That didn't stop him from chiming in with his testimonial. "All I know is if I was a pitcher whose home run ball had started that 4th of July celebration, I'd fire my next pitch at the head of the next hitter."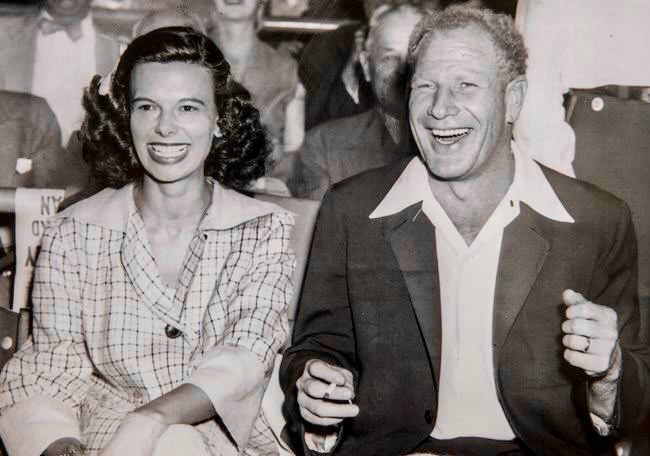 Comparatively, Bill's wife, Mary Frances was delicate in saying the exploding scoreboard "wasn't very genteel."
Adding ammunition to the haters, were the occasional malfunctions. For instance, if there were back-to-back ChiSox homers, it couldn't reload in time. Once, a flying mortar took off from center field like a flaming rocket targeting second base.
Credit the trusty Comiskey Park grounds crew with fire extinguishers for expeditiously saving the day.
Surprising support came from Jerry Reinsdorf. Previously, he had his differences with Bill Veeck, including buying the White Sox from Bill in 1981. "I was awed when Veeck unveiled his explosive innovation," said Reinsdorf. Adding this tribute,
"The revolutionary board seemed unbelievable. Yet typically Veeck. It set the pattern for the sophisticated scoreboards of today."
Exactly.
A Final Performance For The Ages
October 4, 1981. Thereafter, no more playing baseball with the original scoreboard. And eerily, like it was alive and knew of the end, the monster went out markedly with the ultimate bang.
In its final game at the stadium, Tony LaRussa's Chicago White Sox were trailing the Minnesota Twins 12-5 after 7 innings. Jerry Hairston couldn't have picked a better spot for stepping up with his only home run of the season.
Emphatically, his grand slam was key to the thrilling comeback. The Sox caught fire scoring 8 straight runs, winning the game 13-12. Luckily, the Monster didn't catch fire in its encore performance.
Shortly after Bill Veeck's posthumous 1991 Induction into the Major League Baseball Hall of Fame, came the demolition of Comiskey Park. Graciously, in a fitting tribute to the legacy of Bill and his scoreboard, you'll need only one guess to know the final piece standing.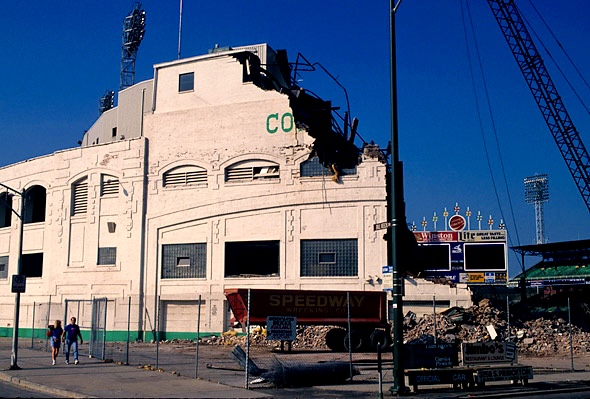 Undeniably, Bill Veeck's exploding scoreboard provided priceless entertaining memories while also shattering tradition. Therefore, it doesn't matter whether you though it was obnoxious or hilarious. Beauty or lack thereof is in the eye of the beholder. And certainly, no one could take their eyes off it.
Thus, it is only fair in seeing and calling the exploding scoreboard as "a true original." Because it was just like the man who passionately created it in his own image.
Suggested Articles
Bill Veeck: Baseball Legend – Bio
Washington Nationals Ball Snatcher
Rebecca Veeck: Daughter of Mike Veeck