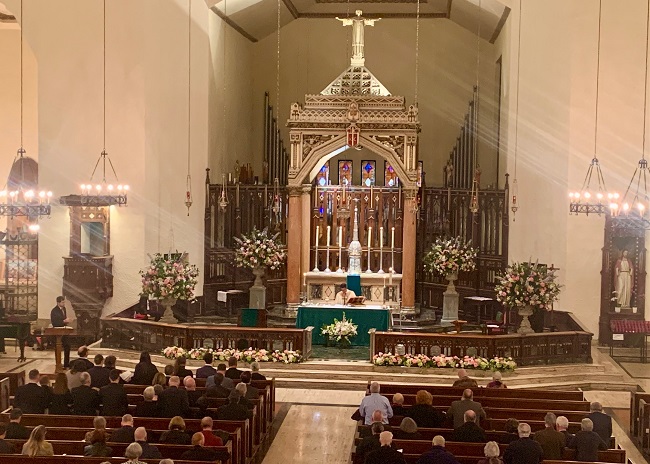 Death marks both an end and a beginning. It is the end of one person's journey. But it is also the beginning of life without them for loved ones.
The Mary Frances Veeck Memorial Service was mostly a celebration of her life. Those in attendance couldn't help but thinking, "She's up there loving this."
People came in showings of respect from Arizona to Florida, Minnesota and beyond. But perhaps none more meaningful than Atlanta, Georgia.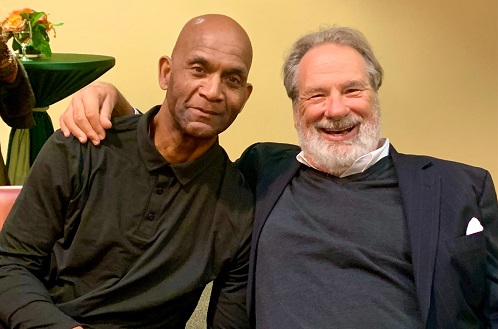 That's where Larry Doby, Jr. had been working very late the night before at Billy Joel's concert. He is in charge of lighting for all the Piano Man's shows. 
Larry's father, Pro Baseball Hall of Famer, Larry Doby, was the first African American player in the American League. It was quickly after Jackie Robinson broke the color barrier in the National League.
"When Mr. Veeck signed my father to a contract, he promised they were in it together and they were," said Doby, Jr. "The Veecks were everything to my parents and mean everything to me, too. I'm here because someone had to represent."
The Mary Frances Veeck Memorial Service had Larry fondly recalling the special relationship between his mother and Mike Veeck's mother.
Celebrating Mary Frances Veeck's own life story.
"Mrs. Veeck would write the most heartfelt letters to my mother. I remember her unique handwriting. It was the most eloquent I'd ever seen."  – Larry Doby, Jr.
Outside, Chicago's first snow flurries of the fall season were blowing wildly in the wind. The Mary Frances Veeck Memorial Service was fittingly held in the Hyde Park section of downtown Chicago. 
It was here where she was known best. Some knew her for riding her tricycle around the neighborhood. Others knew her more intimately for her devotion to helping the less fortunate.
Meanwhile, inside her home field, St. Thomas the Apostle Catholic Church, family and friends gathered for a heartwarming mass. But this one was different than the thousands of services Mary Frances enjoyed there. This time, she was only there in spirit.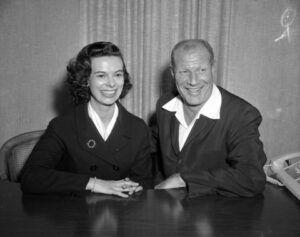 Mary Frances Veeck passed away on September 10, 2022.
She had just rounded life's bases for the 102nd time. It is worth noting she went 36 years after her husband, Bill Veeck died. What is amazing about it is considering how Mary Frances Veeck also fully embraced and lived by his "Go Go Sox" lifestyle every step of the way. 
They grew a family and a family of Major League Baseball teams. New cities filled with fans became new worlds of friends to meet and entertain. It meant having a whole lot of Fun. But it certainly didn't equate to a whole lot of sleep.
Early in her career she was Mary Frances Ackerman. It was when she played an important role in helping build the Ice Capades into a powerhouse global brand. Like it or not, it earned her widespread recognition as, "The World's Most Beautiful Press Agent." She was made for the spotlight all right.
Having 8 kids together, Bill and Mary Frances Veeck just missed fielding their own baseball team. It wasn't for a lack of love or trying. Only multiple miscarriages during baseball seasons were the difference.
Today, 4 of her children remain. Mike Veeck and Greg Veeck. Lisa Veeck and Marya Veeck.
Many people recognize how much Mike resembles his dad. But unless you know the family… you ain't seen nothing yet. Brother Greg has an uncanny appearance and mannerisms like his Dad. For those who know to look for it, Greg also gives you a modern day look into the family's past.
The Veeck family has been like seemingly every other family. Whereas not all relationships are the same. Mike Veeck was the only child following his father into baseball and working for him.
The girls were closer to their mother, and she enjoyed grooming them to be ladies. And last but far from least, back to Greg. He also enjoyed a very close and special relationship with his mother.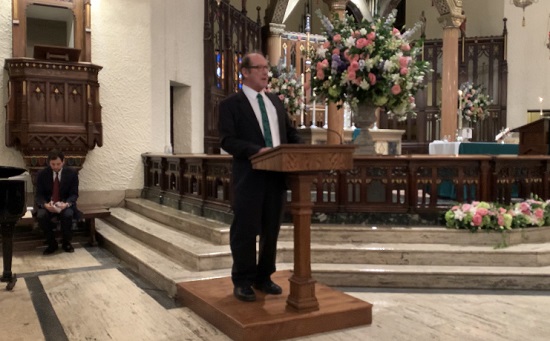 Greg Veeck still laughs about being a bad left-handed catcher in baseball. However, he was the right pitch man for his mother.
It was sacred as well as special for Greg to speak from the heart about his mother. Sharing the fondest memories about her in the church she loved made it even more powerful.
The gratitude and pride he showcased revealed his side as Gregory Veeck, Ph.D., the uniquely popular professor emeritus at Western Michigan University. Or as Greg likes calling it, "The Harvard of Kalamazoo." Greg's teaching from the podium was as thought-provoking as it was touching.
Believing she loved the mass, no doubt Mary Frances Veeck also surely enjoyed the festivities which followed. Countless stories, smiles, toasts, and hugs were true to the Veeck way of life.
This would have made the great matriarch happy seeing extra innings of such love and laughter.
The Mary Frances Veeck Memorial made a fitting final page in the history book of her life. May she now either be resting in peace, or back to enjoying a great welcome party in the afterlife with her beloved Bill.
Suggested Articles
Griffin Conine of Blue Wahoos Makes Fishy Play
Mike Veeck Website Leaps Online in a Single Bound