Whoa Nelly! Can you still hear legendary sportscaster Keith Jackson shouting those words after a great play on the field? Bill Veeck shared that same excitement for his Nellie Fox Night tribute and promotion.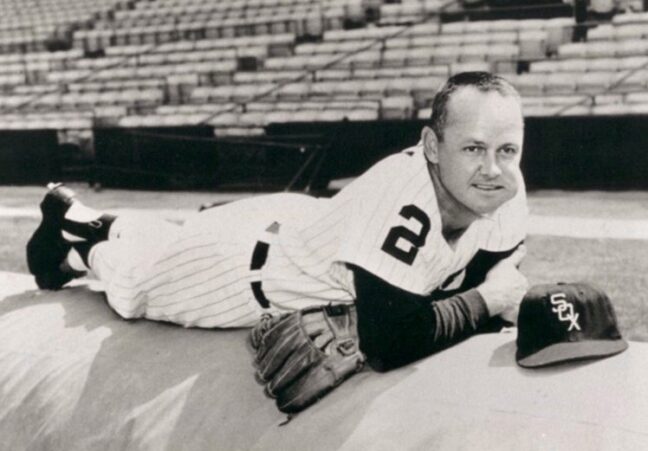 Before Pete Rose, the scrappy little Nellie Fox was the face of hustling on the baseball diamond. Whereas Bill Veeck was known as the hustling champion among team owners of all sports. These two are now in the National Baseball Hall of Fame. But years earlier, they came together in creating a unique Nellie Fox Night tribute.
Standing just 5'9 and weighing 160 pounds, Fox was a 12-time All Star in his 18 seasons. He was one of the best second basemen ever. Being the third-hardest hitter to strike out in Major League Baseball history is a sign of his competitive nature.
Nellie Fox was the leader of Go Go Sox in 1959.
He was the biggest reason for the memorable and exciting Chicago White Sox that year. In leading the "Go Go Sox" in 1959, Fox enjoyed his one Most Valuable Player – MVP season. So, because of Nellie being deserving, Bill Veeck and his Chicago White Sox hosted a Nellie Fox Night at Comiskey Park.
Well, coincidentally there may have been another reason. But actually, that was just some minor renovation stuff the owner was dealing with around his team's Major League Baseball home.
It turns out the concession trucks being used at the time were barely squeezing through the path under the stadium. Reaching the concession area was such an ongoing challenge, the team was hoping for a bypass using the gate in the right-field bleachers.
However, there were problems with this solution. They required widening the gate, tearing down walls, excavating, removing and replacing the runway, etc. Other than that, you could call it a side job.
Bill Veeck's "Go to" Pitch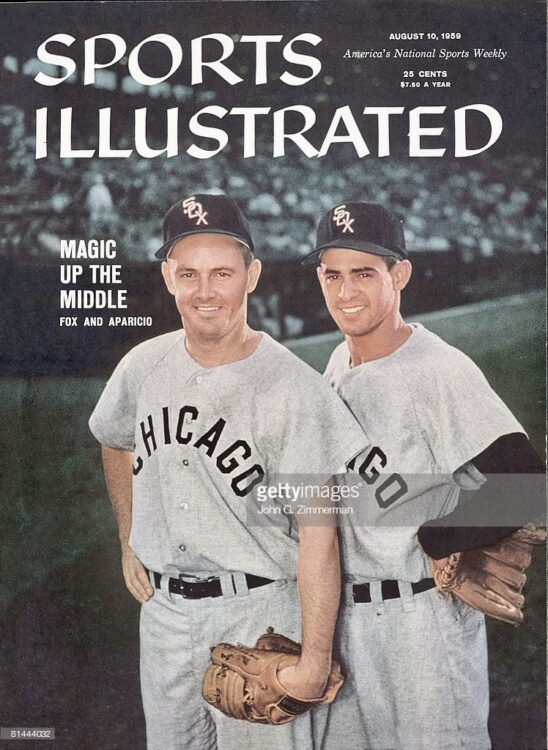 In times such as these, Bill Veeck's go to pitch was cleverly dreaming up a promotion to pay for it all. No one in Chicagoland would bat an eye at Nellie Fox Night. It made perfect sense.
The hot-hitting, Gold Glove winning star was leading the White Sox to the 1959 World Series. Fans and sponsors were eagerly going along for the ride. All Bill Veeck needed was an idea ridiculous enough for justifying the construction cost.
Ahoy maties! As a small token of their appreciation,
On Nellie Fox Night the White Sox gifted him a sailboat.
Ahoy maties! It was a small token of the team's appreciation. But, whoa. Surprisingly, it wouldn't be smooth sailing getting the vessel into the ballpark. Renovating the right field gate would have to happen.
Talk about a fox in the henhouse, right?
Never mind the sailboat was being delivered on a 24-hour lease agreement with a company in Toledo. Besides, what did it matter Nellie Fox had no use for it living in central Pennsylvania. Don't waste time focusing on insignificant details.
Bill Veeck was hustling to the rescue. Nellie Fox Night would be a win-win by his proposing a trade for some land in Pennsylvania he'd bought. Now Bill was giving his star player something of real value to him. And it was a good thing…because by that time the sailboat was already on its way back to Toledo.
Nellie Fox Night offers a great look at the fun of Bill Veeck hustling. Equally important, this one promotion shows part of the very foundation for Mike Veeck developing his Fun Is Good philosophy. Whoa Nelly!
Suggested Articles
The Saint of Second Chances Reviews
The Battered Bastards of Baseball
Saints Marvel Defenders of the Diamond Logo
2022 Cleveland Guardians – A Great New Start