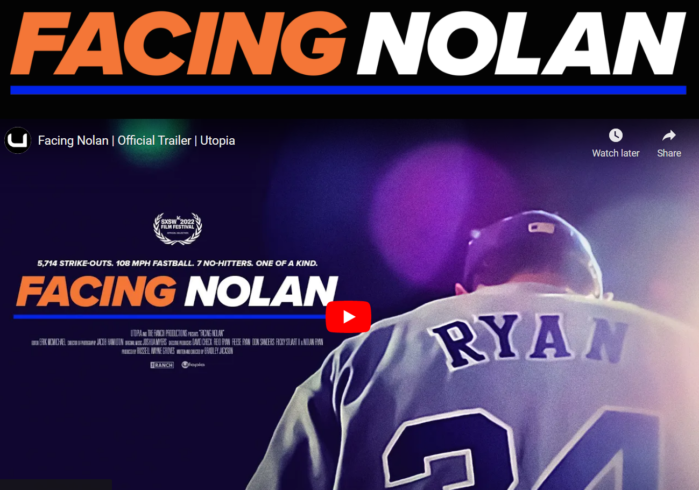 Facing Nolan is an engaging and entertaining baseball documentary. Much of it tells the story of facing Nolan Ryan. More specifically, how even some of the best big-league hitters weren't too thrilled about it.
 No one was keen on having to enter the batter's box against him. Such faceoffs could mean badly losing face or getting hit in yours. He was that dominating and intimidating a pitcher.
The documentary is directed by Bradley Jackson. A Texas native himself, he freely admits to being a huge fan of Nolan Ryan. And that's understandable. 
As a pitcher and now Hall of Famer, Ryan is one of those sports figures every bit as big as the Lone Star State. And basically, you can tell just by watching.
Jackson knew the story he was telling because the film does a nice job of bringing home the essence of Nolan Ryan himself. After all, it is not every day such an unassuming but competitive guy becomes both myth and living legend.
Facing Nolan Ryan is a Hit.
Nicknamed "The Ryan Express," he was one of those captivating players. Whether rooting for or against him, he was a spectacle on the mound. Facing Nolan Ryan comes across in a similar fashion.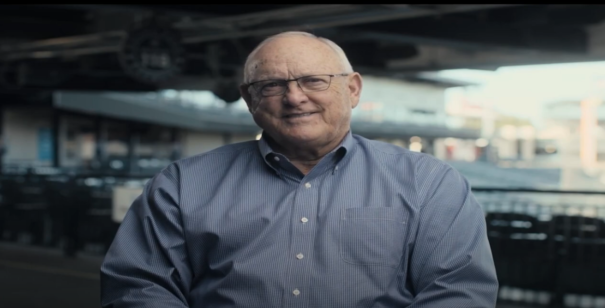 Non-baseball fans may enjoy the love story of a small-town boy marrying his high school sweetheart. Nolan Ryan was 15 when he met 13-year-old Ruth. She remembers seeing him pitch back then and wishing it was her. But sadly, there were no such opportunities for Ruth or any young girls at the time.
Instead, she played tennis instead and became a state champion. Nolan and Ruth got married once she turned 18. Next, Ruth shifted her competitive spirit to making her husband the best he could be. Today, some 55 years later, Ruth and Nolan Ryan are still happily married with 4 kids and 7 grandchildren.
If you do love the game of baseball and its history, this documentary is a home run.
Facing Nolan Ryan tells the story of the legend which began in high school. It then takes you through stops on the Ryan Express. This includes his groundbreaking reality becoming the first pitcher on the planet regularly hurling fastballs at over 100 miles an hour. 
Somehow though, Nolan was continually overlooked and underestimated. Shockingly he even did this to himself. It is downright astonishing he never won a Cy Young Award as the league's top pitcher. One could say, unbelievably true. 
It really is intriguing Ryan himself was not sure he belonged pitching in Major League Baseball. Initially, his goal was lasting 4 years to become eligible for a pension. A fierce competitor thinking so small is surprising, isn't it?
Amazingly, he would pitch for 27 years. Statistics don't lie. Nolan Ryan's record setting career makes it ridiculously hard for comparisons. It includes throwing 7 no-hitters, with 2 of those when he was older than the age of 40. 
And we're not just talking about the guy being named baseball's all-time strikeout king. He is still running away with the title by about 1,000 strikeouts.
Facing Nolan Ryan spotlights the first $1 million dollar a year professional athlete. 
Sorry about the trivia spoiler alert is you are a young fan of the game. But for the rest of us, it is no wonder we can remember him as the first professional athlete earning $1 million dollars a season. 
However, getting those kinds of big bucks was a big deal back in the day. (Imagine how angrily Nolan Ryan would be pitching today if his salary was only $1 million!)
Interviews with the instant Hall of Famer, his family, teammates, and baseball greats make this even more compelling. Facing Nolan Ryan is something you can easily find quite worthy of your time.
Suggested Articles
Delvin Perez Fun Home Run Trot
Positively 4th Street in St. Paul
Washington Nationals Ball Snatcher