Fun Is Good. Yes indeed. And Minor League Baseball (MILB) is Fun and good. For this laugh, we are going to be taking you to Memphis, Tennessee. 
This is because one of the Redbirds players is feeling a rather unique case the blues. We must tell you about the special Delvin Perez Fun Home Run Trot.
No, the shortstop wasn't out partying late last night on the legendary Beale Street. He was batting in a game against the Gwinnett Stripers at Auto Zone Park.
 Sure, we can set the scene for you. But you won't seeing much in the game's box score about it. The bottom line is this:
The Delvin Perez Fun Home Run Trot took celebrating about 50 steps too far.
Kinda like the drunk guy everyone laughs at for parading around the party wearing a lampshade on his head.
Here you go. Bottom of the sixth inning. The fans are quite happy as the home team is winning the game 3-0. Jacob Webb is on the mound for the Stripers. Perez steps into the batter's box to start things off. 
It seems worthy to note he's been struggling at the plate this season, hitting just .226. And in six seasons in the minors, the speedster has only 11 home runs to his credit. So, you can't go blaming a guy for wanting to let it rip.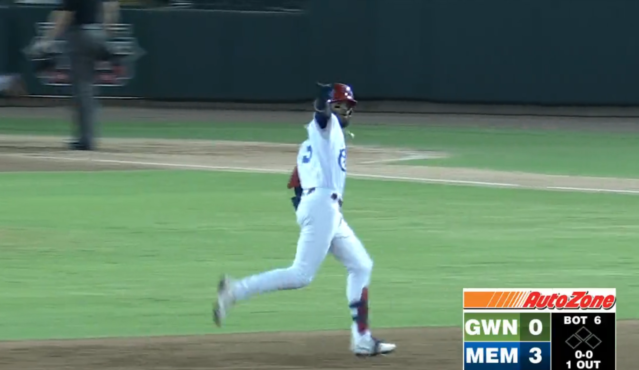 Perez got ALL of the 1-1 pitch. Jumping off his bat at 107 miles per hour, the ball went towering high in the sky over left field. It was going, going, gone. 
And while the Delvin Perez Fun Home Run Trot was underway with a flip of the bat, a funny thing was happening on his way home. 
Either a strong gust of wind or a low flying invisible UFO knocked down the sure homer, turning it into a routine fly ball. It seems like everyone in the ballpark knew…and last but definitely least, came Delvin Perez.
How kind of the Gwinett Stripers organization in sharing this video in social media for all to enjoy the Delvin Perez Fun Home Run Trot. The Triple-A affiliate of the Atlanta Braves put time and effort into sharing a routine play simply marked F7 if scoring from home.
Suggested Articles
Nantucket Film Festival 2023 Award Winner
2023 Tribeca Film Festival Need to Know