Poor Scott Clyne. The guy was giving all he had in creating the perfect marriage proposal. Yet he had no intention of going overboard. However, that is exactly what happened when his marriage proposal to Suzie Tucker went wrong, terribly wrong.  
Yes, Fun Is Good… even in a near disaster wedding proposal.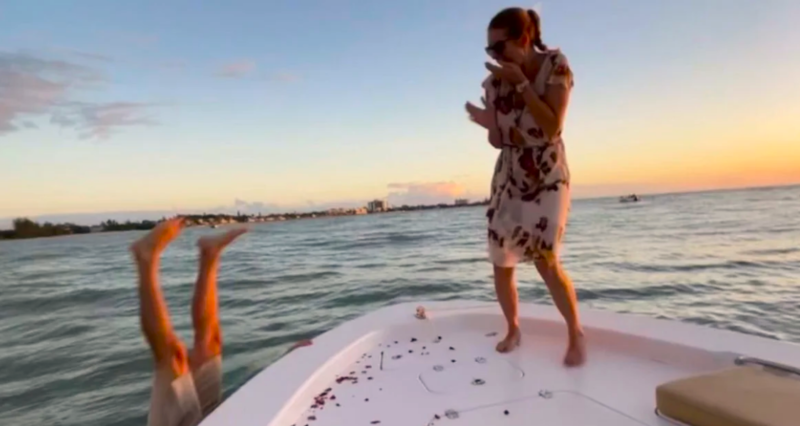 Let's just say with the Scott Clyne Marriage Proposal Plunge, he was taking it in more ways than one.
Picture a 35-year-old well-intended romantic on a boat hoping to re-enact a scene from the movie, "Titanic." But in doing so, Scott showed he is no Leonardo DiCaprio.  
The good news was him proving how great he is at going off-script and ad-libbing.  
Clyne's captioning on a viral video sums up the story. "This is 100% real. 100% my luck. 100% will never forget…." The video has been racking up millions of views. 
The Florida couple met on a sandbar through mutual friends. Part of their successful relationship was not only loving each other but sharing a love for boating. Because of this, Scott knew he was going to propose on the water.  
The first take was canceled by the deadly Hurricane Ian. He was going to pop the question to his 32-year-old girlfriend Suzie Tucker during a boat ride in the Florida Keys. 
On November 12th, the revised plan was a beautiful night in the Sarasota Bay.  A private sunset dinner cruise with friends. 
With their future and a surprise engagement ring in his hands, Scott Clyne did what happens during football weekends in the fall. He fumbled!
Executing the game plan was going to be easy part. Scott would be with Suzie on the bow of the boat soaking in the gorgeous setting sun in front of them. Next, he'd be distracting her with his Fun recreating of the infamous "Titanic" pose.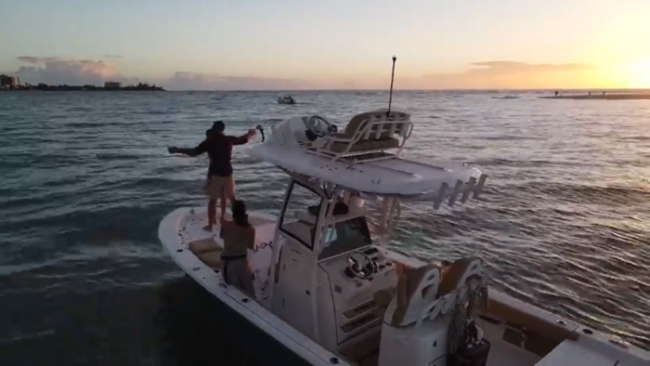 Meanwhile, the friends behind them would be performing their own roles. Shooting video, preparing rose petals, and showing Scott's banner asking Suzie, "Will you marry me?" After getting the all systems go signal, Scott was dropping to one knee. Everything was perfect! Except… 
"I had the ring in my back pocket," Clyne explains. "When I went to reach for it, the corner of the ring box got caught on the top of my pocket and slipped out of my hand. Everything was a blur from that point on. All I remember thinking was 'this can't be happening!' and next thing I knew I was in the water." 
But this story is about good luck, too. Such as Scott seeing the ring box bouncing off the deck, hitting the water and floating for the split second he needed when diving in to rescue it.
But most importantly, after he was helped back into the boat, he formally proposed marriage this time and Suzie said YES! 
Reminding us Men are From Mars, Women Are From Venus… Suzie Tucker had a completely different version of the Scott Clyne Marriage Proposal Plunge. 
She was laughing hysterically. Scott says, "She was focused on the banner. She thought I had fallen over. But she didn't even see the ring drop." 
As Mike Veeck shares during speeches, failures not victories make the most memorable and entertaining stories. In this case, Scott Clyne and Suzie Tucker got both. Now THAT is really lucky.  
Suggested Articles
Dbacks First Pitch is Second to None
Gaylord Perry Joins Bill Veeck Again