First, check your swing before striking out about this piece. We are in no way condoning what Davante Adams did. 
Shoving a working ESPN photographer to the ground moments after the Las Vegas Raiders' heartbreaking loss to the Kansas City Chiefs on Monday Night Football was dead wrong.
Our point here is the Fun is Good gang recognizing the Davante Adams Ban by Worlds of Fun.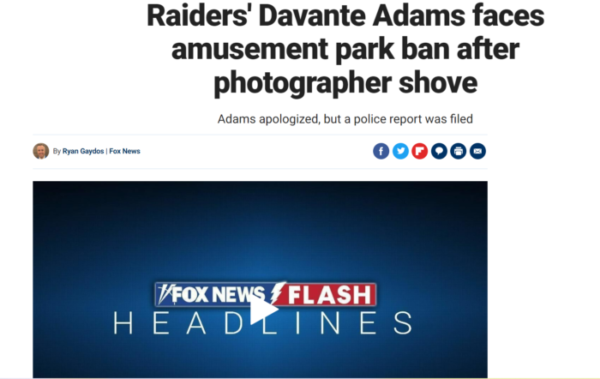 Worlds of Fun isn't just any amusement park. This 235-acre complex is the largest in the Midwest. But more importantly, it is a good neighbor of the Kansas City Chiefs. 
What's really interesting is one of the Worlds of Fun co-founders in 1973 was none other than Lamar Hunt.
 Perhaps you are familiar with him as also the longtime owner of the Kansas City Chiefs and founder of the American Football League.
Lamar sold the park in 1995. While the Chiefs are still owned by the Hunt Family after his passing in 2006 to prostate cancer.
The Davante Adams Ban by Worlds of Fun deserves huge Kansas City Kudos.
It is as cheesy as KC's cheesy corn. As unique and delicious as its burnt ends steak.
Let's have fun looking at some of the facts.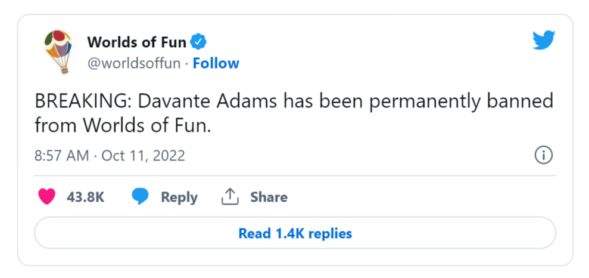 Credit goes to posting that short and simple tweet. That's all it took for the Davante Adams Ban by Worlds of Fun for starting its own attention-getting roller coaster ride.
It is irreverent. Worlds of Fun had absolutely nothing to do with the big news story. Davante Adams is a wide receiver for the Las Vegas Raiders.
He doesn't even have to leave town to have Fun. Besides, making about $30 million a year means he can go anywhere in the world he wants without worrying about cost.
Yet solely through its creative marketing efforts, Worlds of Fun was successful in squeezing its way into the hot topic as a popular sidebar news story.
It got nationwide coverage. But the biggest win is the park getting positive media coverage in its own backyard by aligning itself with the most popular brand in the dominant market it shares.
Cost. How much is a tweet? Exactly.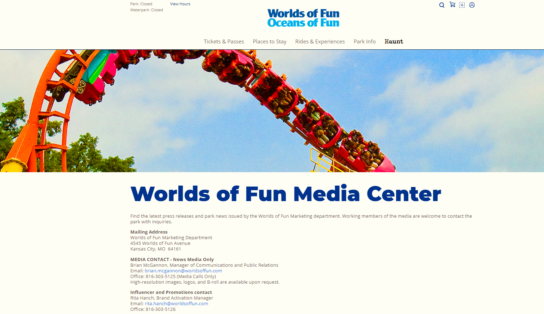 Timing.  In a job well done by the folks above, they showed courage and conviction by taking a chance quickly.
Banning Davante Adams was clever. But doing it BEFORE the Kansas City Police Department, the NFL, and even ESPN took action or publicly added to the story was a powerful use of timing.
You couldn't hope for better results in getting on the mind and "good side" of people you are hoping to attract for Halloween Fun.
Fun Is Good for business.
Suggested Articles
Best Quotes on Fun – 49 Fine Ones