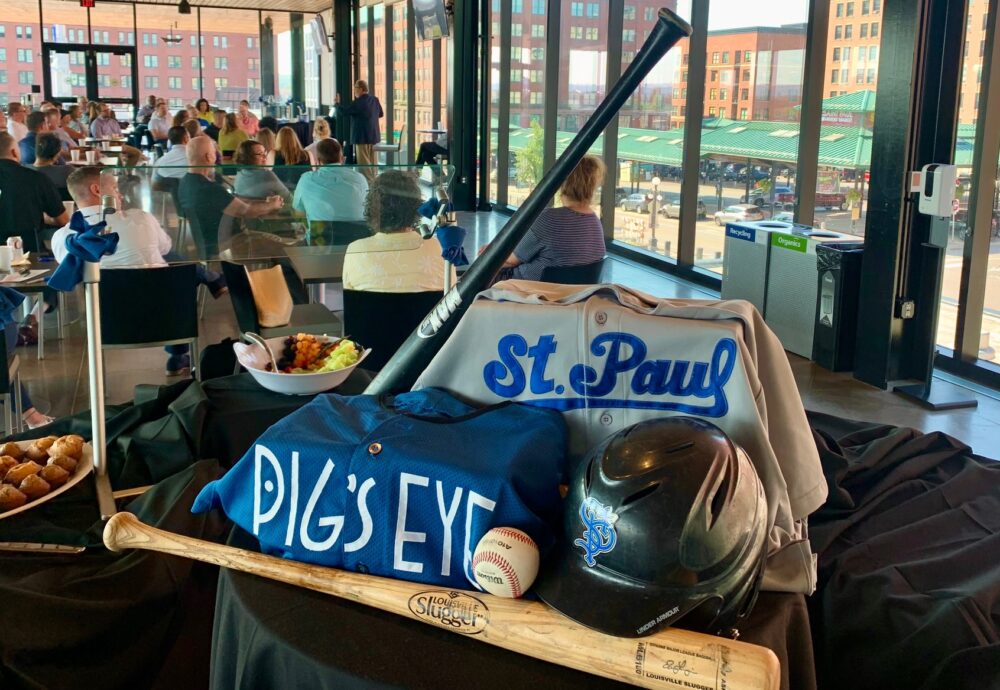 What a wonderful week. Great summer weather. A St. Paul Saints homestand. The satisfaction of seeing tens of thousands of people enjoying CHS Field. And last but not least, an opportunity speaking to Minnesota Department of Public Safety officials. 
As usual, all those elements were publicly coming together in one powerful sense: Community. 
The St. Paul Saints, their ballpark, and the Minnesota Department of Public Safety share a daily dedication of serving the local community.
"Whenever I can provide a bit of a reset and some inspiration from my Fun Is Good philosophy, I believe it does good," said Mike Veeck. "But regarding public safety officials? Certainly, I know it does. My co-presenter Fran Zeuli and I gave them some laughs, offered some tools and thanks. With open arms we welcome the Minnesota Department of Public Safety to CHS Field because they are deserving of our respect and gratitude."

Mike Veeck knows the job of running the ballclub and stadium is hard work. But he also knows playing a game is much different than the tasks and challenges of the Minnesota Department of Public Safety. 
Unlike the St. Paul Saints players performing on CHS Field, people do not actively applaud the work DHS does. Yet like the players, MDPS Team members don't do their jobs for applause. They show up for work on any given day because they take pride in what they do.
Some things are managed differently in the North Star State. the Minnesota Department of Public Safety (DPS) is a wide-ranging agency. Moreover, its reach goes beyond the State Police and law enforcement like in other states.
The Minnesota Department of Public Safety oversees much more than the State Police:
– Emergency management
– Fire safety
– Traffic safety
– Driver licensing and vehicle registration
– Alcohol and gambling, and other areas of public safety.  
First responders, administrators, managers, and office support. They all have key roles on the team providing comfort and convenience in keeping Minnesotans safe. We need all those people and the important services they passionately provide.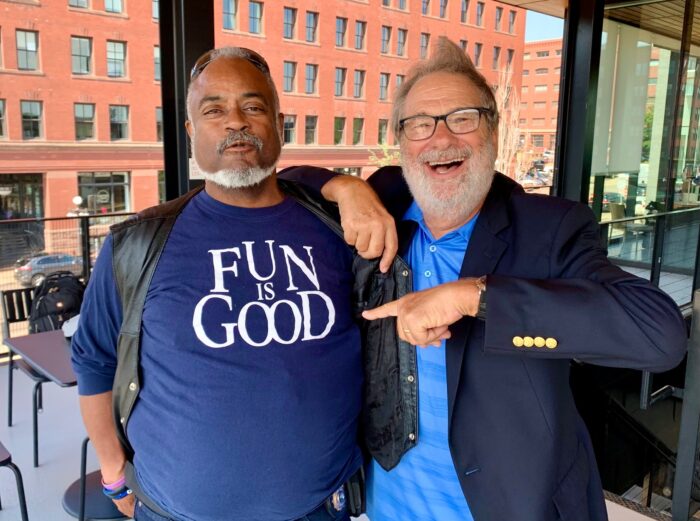 Mike Veeck feels the love. "It has been my honor and pleasure to call John Harrington my friend," he said.
"However, the only thing I don't really like about the man is having to follow him at a public speaking engagement. He's that good. We have history dating back long before he became the Commissioner. If you know me, you know I think titles are not worth the business cards they are printed on. And John is a powerful example why."
John Harrington's job title should be Born Leader. He has providing leadership throughout his life and career.  – Mike Veeck
Before John's current job, he was a patrol cop eventually climbing the ranks of Chief of the St. Paul Police Department. He was also Chief of the Metro Transit Police.
 A champion of diversity and the homeless, John also has been the pillar behind Ujamaa Place. The non-profit organization has a mission of helping transform African American men from repeated failures into shining examples of stability and personal success.  
In 2020, John Harrington found himself serving in additional "mission critical" roles for Minnesota and the nation. 
He was a desperately needed voice of reason and beacon of hope throughout the tragic George Floyd killing and aftermath.
"Personally, another reason I will never forget John Harrington is because of his support in his one term as a Minnesota State Senator," said Mike. "What he did in standing up for our goal of acquiring funding support for CHS Field is immeasurable. And while I'd like to think our friendship had something to do with it, I know it was mostly because John knows I share his love for serving the community.
And as a Veeck, I usually spend more time and effort taking on the establishment than going along with it. So, me of all people must love a guy like John Harrington. After all, get a load of this gem from him. In comparing his fellow politicians to his career in law enforcement, John summed it up by saying he was simply dealing with different types of criminals. " Now that's funny!
Here is Mike Veeck's bottom line when it comes to John Harrington and the Minnesota Department of Public Safety. "Whenever he asks, I'll say "'Yes."' Then maybe, I'll find out what the question was." 
Suggested Articles
"Reggie" on Amazon Prime Video
Patrick Reusse Rounds The Bases with Veeck
The 2023 NFL Draft 5 Classic Calls