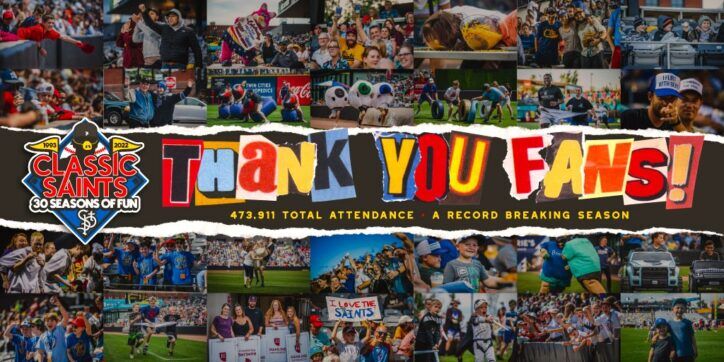 Wow and thank you. The 2022 St. Paul Saints season is over. But you never want to let go of record-breaking seasons that easily. And you can't when nearly 500,000 fans and supporters are responsible for making it all happen. Thank you doesn't seem enough, but maybe coming from the heart helps.
Anyway, doesn't it seem like April was just here? How did we go from Opening Day to approaching Halloween so quickly? So, let's get busy taking a moment in tipping our caps to 2022 Saints baseball because the Minnesota cold is rounding third.
At this point of the year, we are feeling full. Hoping you are, too. Special thanks to all the hard-working vendors serving up great tasting food and refreshing cold beverages.
The 2022 baseball season was the first FULL season as the Triple-A affiliate of the Minnesota Twins.
We are proud of achieving that status and grateful for the opportunity. That in and of itself would be a history making season. But there were many more moments on and off the field worth celebrating.
When it comes to enjoying some Fun at the ballpark, every game is a win at CHS Field. None of that would be the same without you. Granted, some people wind up leaving the game not even knowing who won or lost. By coming out, showing support, and having Fun…we'll call that a win.
This was our 8th season playing at CHS Field, and again it proved to be a tremendous home field advantage. Winning 44 home games during the 2022 season, was good enough in tying for 10th place among all 120 minor league baseball teams. The team definitely feeds off of the fans.
In his second season as manager of the St. Paul Saints, Toby Gardenhire led the club to a record of 74-75. But finishing the season by winning 5 straight games is certainly a sign of a team improving. Overall, the Saints finished in a tie for 4th place in the International League East Division Standings.
The 2022 St. Paul Saints Season Leaders
After getting off to a slow start, the pitching staff improved and had a strong finishing in September. Ronny Henriquez was bringing the heat. He struck out 106 hitters. Dereck Rodriguez had 8 wins on the mound. While Brad Peacock entered the dugout after saving the day 8 times.
As the weather was turning colder, the Saints bat were getting hot. Jermaine Palacios led the team with a .283 batting average, 60 RBI and 70 runs scored. Mark Contreras was the long ball leader by hitting 15 home runs.
Thanks again for 30 seasons of St. Paul Saints baseball and 30 seasons of Fun.
Suggested Articles
Patrick Reusse Rounds The Bases with Veeck