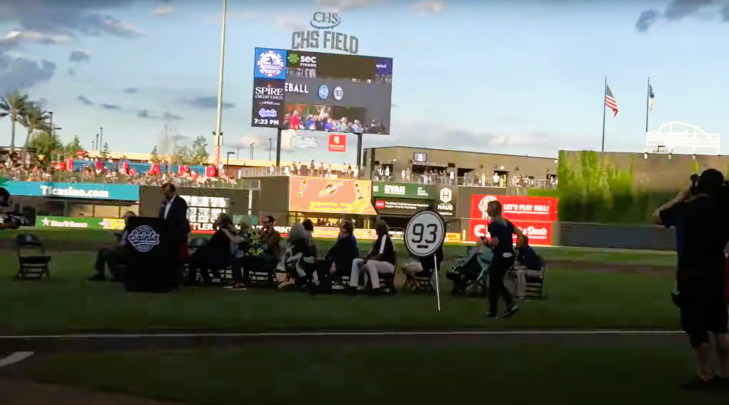 Strawberry Veeck Murray…Oh My! Leave it to the St. Paul Saints to celebrate such a special lineup last night. The event called, "A Night of Tributes" was as fun as it was memorable. And there were multiple standing ovations from a sellout crowd at CHS Field to prove it.
Let us set the scene historically for you. The St. Paul Saints managed to creatively combine two separate, richly deserved tributes. It showcased the team's short-form and lengthy history through a 29-game stretch and a 30-year run. Amazingly, both left quite a legacy.
Saints Honor Strawberry – Veeck – Murray
It was uniquely first. Darryl Strawberry batted leadoff for the evening's pre-game festivities. One of the premiere sluggers in baseball, he needed just 29 games of the 1996 season to be forever remembered as a St. Paul Saint.
For a former Major League Baseball superstar to attempt a comeback is one thing. To do it in St. Paul, Minnesota, playing independent level baseball in the Northern League is quite another story. And a magical story it was indeed.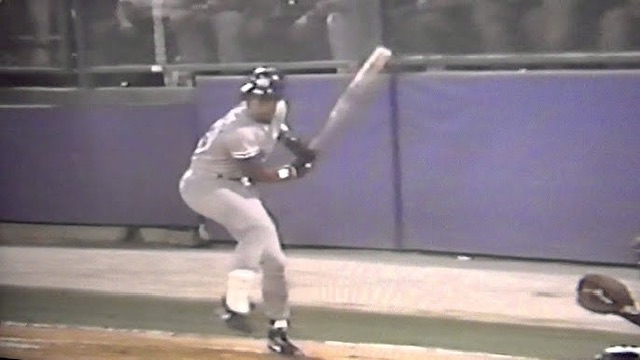 Whether at Midway Stadium or on the road with the team, when Darryl Strawberry played for the St. Paul Saints, he brought a persona that was bigger than all the other players combined. Thousands came out to the ballpark to see him play and be able to say they did. Every time he went up to bat, there was electricity throughout the stadium. It was true for both fans of the St. Paul Saints, and the team they were playing against. Most everyone wanted to see Darryl Strawberry hit a home run. He did not disappoint.
St. Paul Saints Retired Darryl Strawberry's Number 17
The number 17 he wore on a St. Paul Saints jersey was retired and unveiled in left field atop the City of Baseball Museum at CHS Field. While it may seem extraordinary to retire any baseball player's number based on 29 games, it was certainly justified. That is because Darryl Strawberry himself was nothing shy of extraordinary during his brief stint in a Saints' uniform.
To start the 1996 season, Strawberry instantly proved he still had that powerful yet beautiful swing. This was an unknown because he was coming off a 2-year hiatus away from baseball due to his addiction demons. However, more importantly to him personally, was discovering at age 34 he still loved to play the game of baseball. Strawberry credits his time in St. Paul for that.
Darryl dominated independent league pitching that season with a .435 batting average. In addition, he hit 18 home runs in just over 100 at bats. He was basically no match for minor league baseball. And today, the legend of his home runs only grows with time.
By the 4th of July, the New York Yankees signed Darryl Strawberry to a Major League contract. They too discovered the love and the swing, as Darryl helped the Bronx Bombers win the 1996 World Series title.
"I am SO over baseball," said the 61-year-old Strawberry last night. "But I will always come back to St. Paul."
Strawberry Veeck Murray…Oh My!
1993 Season Owners Have Number 93 Retired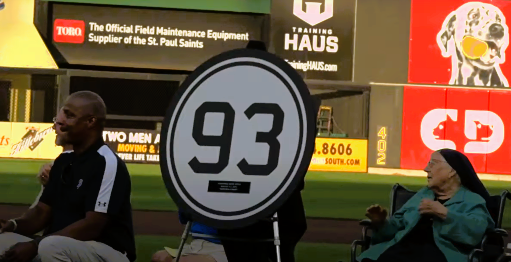 Van Schley was credited with getting the ballclub in St. Paul in the Northern League. Considering the company involved, he enjoyed his front row seat for the ceremony. Whereas principal owner Marv Goldklang spoke at the podium a couple times.
But Mike Veeck was the face of the St. Paul Saints franchise known best by the fans. Since stamping "Fun is Good" as the motto of the ballclub, the 30 years of love and laughter obviously holds a special place in the hearts of the Twin Cities community.
Holding the event on the infield at CHS Field added to the historical importance of the evening. Mike Veeck spent years at the forefront of bringing the award-winning community facility to life.
He told a couple of jokes at the podium. But mainly, Mike shared his heart in return with those in attendance. For example, thanking St. Paul in saying, "You have made all of my dreams come true."
Strawberry Veeck Murray…Oh My!
Being Bill Murray at CHS Field
In 1993, Bill Murray starred in the hit movie, "Groundhog Day." Last night could have been a like a scene from Groundhog Day. Bill was happily back with his original partners in a celebration of the St. Paul Saints baseball team.
Bill gave a Fun but also heartfelt speech which showed what the journey with the Saints meant to him. He spoke glowingly with pride of the Fun Mike Veeck created, and how what they have done in ballpark entertainment is being copied in every Major League Baseball stadium. And if you needed proof Bill Murray paid attention for 30 years, you got it with him saying, "I'm okay with Minneapolis. But I LOVE St. Paul!"
Enjoy the video below with highlights of the St. Paul Saints ceremony honoring the legendary Darryl Strawberry and the club's owners, Marv Goldklang, Bill Murray, Van Schley, and Mike Veeck.