It was like a magic show. That's how you could describe the home opener for the 2023 Arizona Diamondbacks. Their divisional arch-rival Los Angeles Dodgers were in town. What could be better? The Dbacks first pitch of course.
The ceremonial Dbacks first pitch of the 2023 season featured the amazing Tyler Moldovan.
The Arizona Diamondbacks didn't just bring out any "diamond in the rough." We're talking serious rough. The kind of rough it is hard to survive without a miracle or a whole lot of luck. Let's set the scene for you.
It is around 2:00 a.m. on December 14, 2021. 22-year old Phoenix Police Officer Tyler Moldovan responds to a call about vehicles driving erratically at a high rate of speed.  Searching an apartment complex, he finds a suspect hiding behind a patio wall. How you ask? He heard the man on the phone telling someone he is going to jail. You don't need to be "Dirty Harry" to know you're in the right (or wrong) place.
Officer Moldovan identified himself. He asked 24-year old Essa Kolareh Eugene Williams if he was carrying a weapon. The suspect said no before pulling a handgun from his waist and shooting the officer multiple times. Unbelievably, he unloaded his clip even with the officer laying defenseless and motionless on the ground.
Officer Tyler Moldovan was shot 8 times including once in the head. The ultimate longshot to throw the Dbacks first pitch.
Luckily, he only got the chance by extraordinary timing. You see, the shooting could have been worse, much worse. Seeking more damage, the suspect tried unholstering Moldovan's gun. But a second officer arrived just in time. Somehow, Moldovan made it to the hospital though he was not expected to make it until sunrise. His family arrived and literally began a "round the clock" prayer vigil. He survived on life support for a month. Next came 6 months in a rehabilitation facility before going home in June 2022.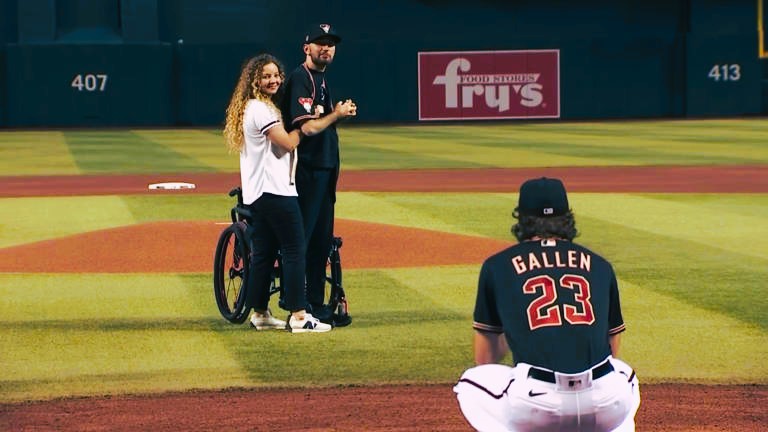 Fast forward to this evening and the Dbacks first pitch. With his devoted wife Chelsea by his side physically and emotionally, Tyler Moldovan stood from his wheelchair. He held the baseball in his left hand before tossing a strike to starting pitcher, Zac Gallen.
Arizona Diamondbacks fans had to wait especially long for the magic that is Opening Day. The team began the season on the road. But oh, was the wait ever worth it.
Terms like "miracle" and "inspiration" were tossed around because of the Dbacks first pitch. There wasn't a dry eye in the house. Chills could be felt throughout Chase Field. Even the visiting Dodgers and their fans were in on it. Considering how these teams like nothing about each other, that tells you just how special this moment was. The Dbacks first pitch. Second to none.
Suggested Articles
Home Run Catching Dog Steals Show   
St. Paul Saints Sale to Diamond Baseball Holdings
Scott Clyne Marriage Proposal Plunge
Libby Veeck: Wife of Mike Veeck