Nope. We are not disrobing the topic of nudity at home. Not nudity through streaming services, or through your neighbor's window.
Instead, we of Mike Veeck mindset like undressing clever and effective marketing efforts. Our latest example is about marketing Obsession on Netflix. Specifically, social media.

The new 4-episode limited original series is as erotic as it is trending.  Let's set the scene. Remember the things you were strongly advised against as a kid? "Don't play with matches. 
Don't say bad words, drink alcohol, use drugs. And don't you dare have sex before marriage." Reliving your own memories and laughing about them is a rite of passage.
More often than not, we all know how these scenarios play out. Yes, you probably did some or all of them, (plus a few others) and for a variety of reasons.
For instance, there's always temptation. Calling BS on the risks. Proving people wrong or peer pressure. Other times it may have just been because you thought it would be Fun. And after all, Fun is Good.
Forget low-hanging fruit. Forbidden fruit is sweet and juicy. Dating back to Adam and Eve, words of caution can easily generate the opposite effect.
Now, with this in mind, let's applaud the social media marketing Obsession on Netflix.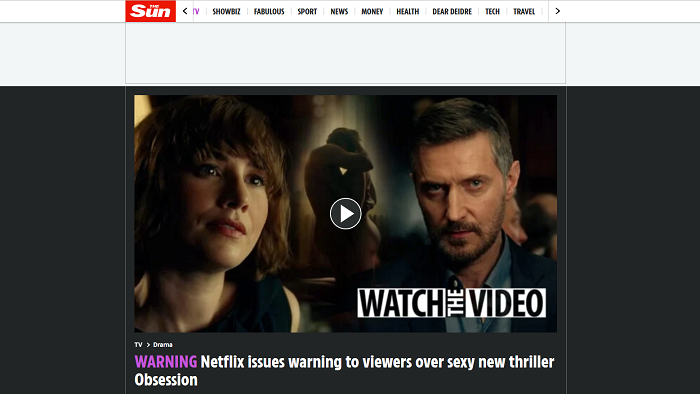 This new Netflix production is based on Josephine Hart's novel, "Damage." You may have seen a previously made film using the book's title starring, Jeremy Irons and Juliette Binoche.
Comparing the two is simple. The Netflix version is a lot more thrilling with a lot more graphic content. A whole lot more.
In this erotic thriller, love is not conquering all. It is losing a battle to sheer lust. Richard Armitage plays William, a married pediatric surgeon who feels overwhelming lust at first sight with his son's girlfriend, Anna. Charlie Murphy plays the sultry Anna and does she ever.
William simply cannot get enough of her to the point where nothing else in life matters. He is obsessed with Anna and the torrid, captivating BDSM affair they are having.
With "Obsession," don't rush into blaming Anna for the affair. And don't go after Netflix for warning you about explicit sexual content.
The streaming giant is only doing great, dual-purpose "marketing."
Quickly, the world leading service claimed "Obsession" was getting complaints. That's not shocking. Perhaps some scenes were far steamier than viewers expected.  The company releasing a high-profile warning helps in quieting those critics.
But if you were paying attention, you could see what else the warning was doing…at the very same time. Dare we say it? Sneakily "promoting" in broad daylight. 
Netflix warning viewers about Obsession was also brilliantly marketing the series to those who might like watching its sexually driven storyline.
How about this? Wanna fall in love with a marketing sample like we have? Being creative in social media marketing is nothing new for Netflix. But this tweet overseas is special.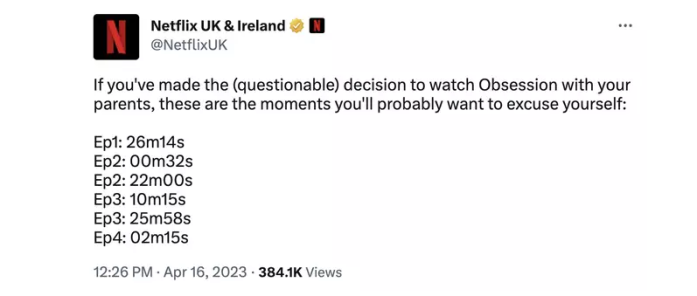 Now THIS is "Love at First Sight" for us. An attempt at fast-tracking interest in watching "Obsession," not steering clear of it. It's a tried-and-true marketing method long used with movies.
There was "Last Tango in Paris" with Marlon Brando dancing in the imaginations of those 50 years ago. Sharon Stone being interrogated by Michael Douglas in "Basic Instinct." And even Tom Cruise and Nicole Kidman in Stanley Kubrick's "Eyes Wide Shut."
All of these are marketing efforts along the lines of the warnings we all heard as kids. Kudos to Netflix for being the latest in using this tactic in its marketing of "Obsession." No need to waste time searching for it. We'll make it easy for you.
Suggested Articles
The Battered Bastards of Baseball