It was quite a high in the South Carolina Low Country on Friday night. The Mike Veeck documentary Charleston premiere was a private event for family and friends. The idea was to give them an early first chance to see "The Saint of Second Chances." The Mike Veeck documentary begins streaming on Netflix on Tuesday, September 19, 2023.
The evening filled with love, laughter, and tears was held in the warm and friendly confines of the Segra Club at Joseph P. Riley, Jr. Park. This is the home field of the Charleston RiverDogs minor league baseball team, the two-time defending champions of the Carolina League.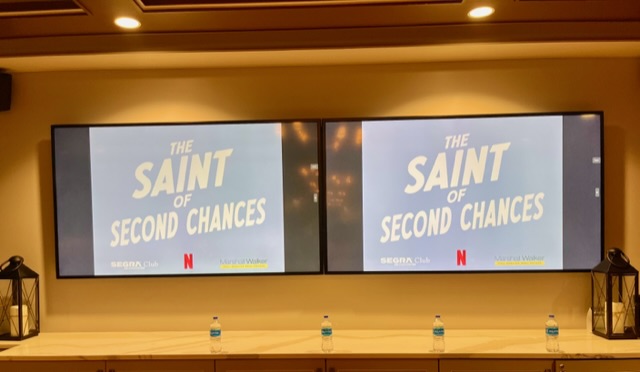 Veeck Documentary Charleston Home Viewing
Basically, this was the ultimate night home game for Mike and Libby Veeck. The film was screened in the spot where Mike Veeck worked tirelessly for years when he brought "Fun is Good" to the Charleston River Dogs and their fans. It was also the community where the Veeck family resided for years in their home in Mount Pleasant, South Carolina.
Special thanks to our special friends, RiverDogs President Dave Echols, and mighty Charleston realtor Marshall Walker. They were most responsible for bringing such a memorable evening to life. Both fine gentlemen and business leaders are truly pillars of the local community.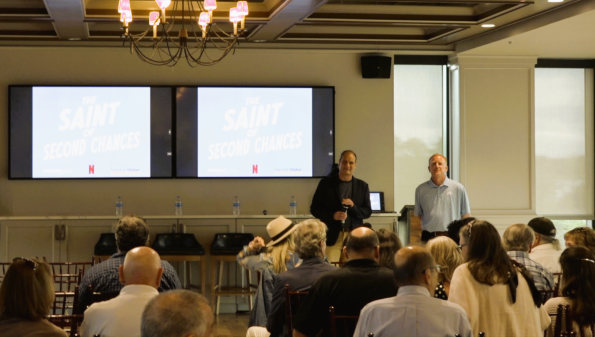 The Saint of Second Chances is a Tearjerker
Watching The Saint of Second Chances was indeed an emotional experience. This was because of one sacred degree of separation shared by all in attendance. As Mike Veeck told the crowd in his heartfelt way, "Everyone here had a connection with our daughter, Rebecca."
It was blatantly obvious when the life of Rebecca Veeck was presented at this Veeck Documentary Charleston Premiere. Directors Morgan Neville and Jeff Malmberg wonderfully told her story in "The Saint of Second Chances." And they respectfully presented her passing in a way which especially touched this audience who knew and loved her.
A Happy Ending Remembering Rebecca Veeck
When Marshall Walker welcomed the audience, he announced a special celebration of Rebecca Veeck at the end of the film. It was designed to be the opposite of a traditionally somber moment of silence or remembrance. Instead, party poppers and noisemakers were provided by Kevin Harmon a.k.a. "Dr. Kevin."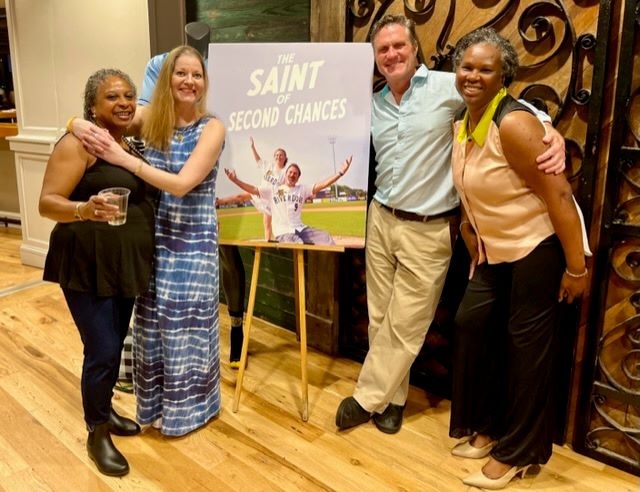 The extraordinary leadership of Kevin Harmon guided the Superhuman homecare team for Rebecca Veeck when she had Batten Disease. And on this night, Dr. Kevin emphatically proved once again, "Fun is Good."
Below is a quick video from the Veeck Documentary Charleston Premiere. It allows you to feel the love in the room for Rebecca and the Veeck family.