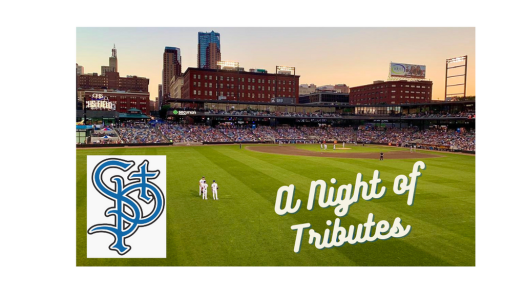 A Night of Tributes is all that, and some. August 12, 2023, will surely be a memorable night of baseball history. And undoubtedly, a night unlike any other the St. Paul Saints and their community of fans have experienced at CHS Field.
One minor league baseball game will be played on this exciting evening. The Saints host the Louisville Bats, the Triple-A affiliate of the Cincinnati Reds. First pitch is scheduled for 7:07 p.m. Yet, it is the action surrounding the game which is grabbing all the attention.
A Night of Tributes will play out like a twi-night "tripleheader."
The lineup of festivities looks like as an extraordinary 3 for 1 event special. In terms of the standings, it will be an important game for the Saints as they hold a tight lead the International League West Division. But this is temporarily shadowed by a ceremony where number 17 worn by Darryl Strawberry will be retired. And were it not for the incredible generosity of the St. Paul Saints organization, that in and of itself would have easily been more than enough.
However, A Night of Tributes at CHS Field will also recognize the team's original ownership group. Mike Veeck, Marv Goldklang, Bill Murray, and Van Schley will be honored for all they did bringing the St. Paul Saints to life. It is hard to believe this began in the Capital City more than 30 years ago.
Darryl Strawberry did not need long to make St. Paul Saints history.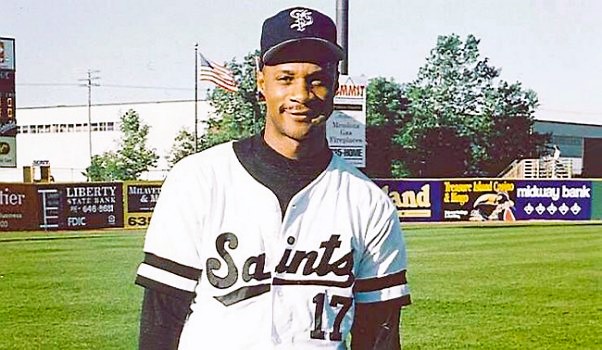 In fact, the uber-talented and best-known player to ever put on a Saints uniform wore it for only 29 games. But all he accomplished in that short time wearing the number 17 jersey made it legendary.
1996 was a magical year in the life of Darryl Strawberry. He practically tore the covers off baseballs during his spectacular comeback season to professional baseball. Strawberry had an impressive .435 batting average with the Saints. Yet even more memorable was the 18 home runs and 39 runs batted in (RBI) in that 29-game span. The power of some of those home run blasts showed every doubter he could still play the game at a high level.
Darryl Strawberry had a uniquely dominating performance with the St. Paul Saints. So much so, he jumped right back up to Major League Baseball when the New York Yankees signed him to a contract. Darryl played an important role that season as the New York Yankees won the 1996 World Series.
Strawberry made Saints history in 29 games. Mike Veeck and his owner partners did it over 30 years.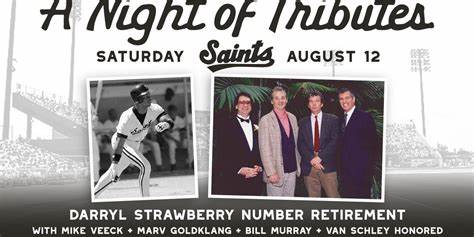 Yes, both short and long form history and success will be showcased on A Night of Tributes. Mike Veeck, Marv Goldklang, Bill Murray, and Van Schley brought Fun is Good to the Twin Cities with independent minor league baseball in 1993. But it took a whole lot of courage, creativity, community involvement, and hard work to make it happen. And a whole lot more for the club to survive.
Most people thought the St. Paul Saints would never finish that first season. The idea was a long shot logically because no one believed in a much lower-level baseball team just a few miles from the recent World Series Minnesota Twins. Three decades later, it is clear.
The Fun is Good gang got the last laugh in St. Paul.
Today, the St. Paul Saints enjoy life in their beautiful downtown ballpark as the Triple-A affiliate of the Twins. The big change is Diamond Baseball Holdings acquired ownership of the club prior to the 2023 baseball season.
A Night of Tributes is a classy move by the new owners. They embraced the front office leaders who stayed on, Derek Sharrer, Tom Whaley, Chris Schwab, and others to welcome back and celebrate their original bosses. It is a richly deserved occasion for the club and the local community to say, "Thanks for the memories."
The gates open at 5:30 p.m. on Saturday, August 12 for A Night of Tributes. Get there early if you remember and cherish 1996. The first 1,500 fans will be given a one-of-a-kind Darryl Strawberry pennant print.
For tickets, visit the Saints website. We will look for you at CHS Field in what will be a great night of history and Fun.
Suggested Articles:
Mike Veeck AAPB Hall of Fame Induction Speech
2023 American Association Hall of Fame Inductees