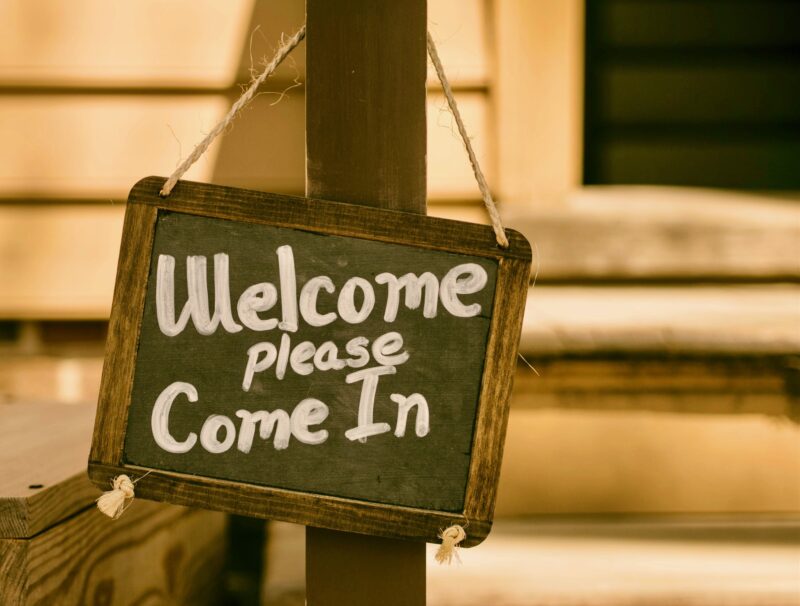 Welcome to Mike Veeck  Official Website. It is the official website of Mike Veeck. It is a great feeling knowing you were able to find this website. This project has been a long time coming. But it's not like he wasn't thinking about building a website a while ago.
For years, the idea was stranded on first base. Kind of like after being hit in a tender spot by a pitch. Online brokers in Asia had been basically blocking a number of Veeck related names.
They were doing it in the hopes of a financial score. There is big business buying domain names and wanting a king's ransom in return for letting them go. The subjects of Bill Veeck, Mike Veeck, and other related topics must have been worth the investment.
However, things have a way of working out, don't they? A mistake here. Some opportunistic good fortune there. And so yes, this is an exciting day.
But if you know Mike Veeck, you know he doesn't take himself too seriously.
You certainly can't do that when you are known as the guy behind, "Fun Is Good.' Therefore, let's keep MikeVeeck.com in perspective. Considering the history of the game of baseball he loves so dearly, launching a website ain't the biggest event ever taking place on this day. It's not even close.
Let's take a quick trip back to other happenings on the 13th day of August.
We will start with 1947 season.  Mike's dad, Bill Veeck owned the Cleveland Indians. It is a great source of pride for Mike as this was his dad's first tenure owning a Major League Baseball club.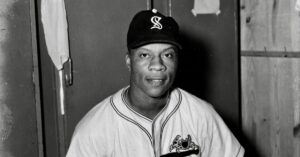 August 13, 1947, saw Willard Jessie Brown hitting a pinch-hit home run for the St. Louis Browns at Sportsman's Park in The Gateway City. The homer was off Hall of Fame pitcher Hal Newhouser of the Detroit Tigers. Still, it was an even bigger moment than that.
Willard Brown was a hero above and beyond that one at-bat or game. And though Mike wasn't even born at the time, what Brown did for the Browns is quite significant to him. Maybe it will be for you as well, because now you know about it.
On this date in 1947, Willard "Home Run" Brown became the first African American to hit a home run in an American League Major League Baseball game.
The moment also happened to be the highlight of his career in the big leagues. He was on the Browns roster for only 21 games before being released. But thankfully it was long enough for history was made. Willard Brown's transition from the Negro Leagues was even harder in life than it was on the baseball diamond.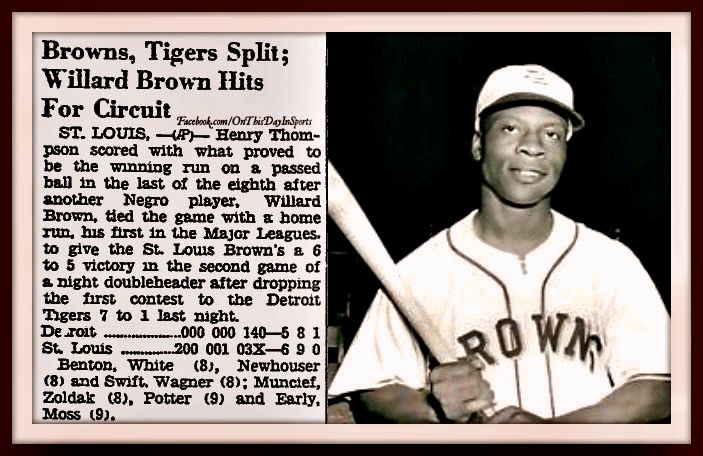 The St. Louis Browns made history signing Hank Thompson and Williard Brown as the second and third Negro players in the American League. But those signings are mostly overshadowed.
Who was the first Black Man to play Baseball in American League?
On July 3, 1947, Bill Veeck signed a contract with Larry Doby which made him the first black man to play in the American League.
Like Thompson and Brown, even the significance of the Larry Doby signing gets overlooked. That is because Jackie Robinson of the National League's Brooklyn Dodgers was only a couple of months earlier in courageously breaking Major League Baseball's color barrier.
"I will be forever proud of the courage and strength showed by my Dad and Larry Doby," said Mike Veeck. And I will always have loving memories of both these heroes of mine."

Also on August 13th, 1995, baseball legend Mickey Mantle died from liver cancer. "The Mick" was just 63 but his legend also lives on.
Proof how on this date 75 years ago and all days, we win some and we lose some. Welcome to the story of my life in and out of baseball.
And once again, welcome to the MikeVeeck.com website on this day, August 13, 2022. Oh, what a day to be online.
Suggested Articles
Best Quotes on Fun – 49 Fine Ones
Positively 4th Street in St. Paul
The Saint of Second Chances Reviews